Pooleys Flyer Live Competition – Now Closed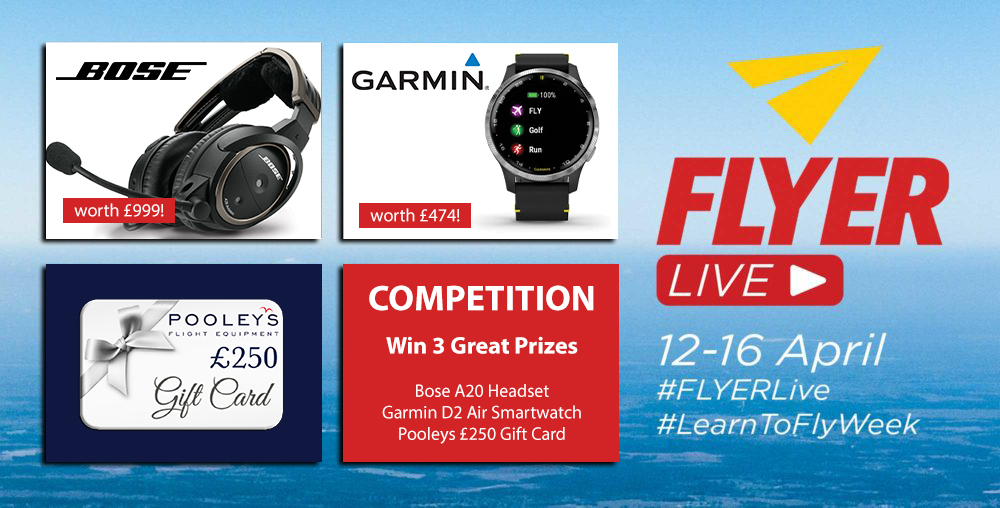 Win amazing prizes from Pooleys, Bose and Garmin!
The competition is now closed.
If you did not manage to enter this time, don't worry, we'll be running another Pooleys Competition in the near future.
The winners are:
1. Mr Rob Payne - Bose A20 ANR Headset with Bluetooth. Rob is an A&E doctor changing careers to follow his dream and become a commercial pilot. So far he has done his PPL, his first few ATPLs and a couple of trips hour building. His hope is to build up hours and finish his ATPLs this year, then go on to do his CPL ME/IR.
2. Mr A Habib - Garmin D2 Air Watch. He has a PPL with an IMC rating and is looking forward to attending a number fly-ins across the UK this Summer. He is also planning a flying trip to Scotland with friends.
3. Mr Darren Lewington - £250 Pooleys Gift Voucher. Darren is a Trustee at the charity fly2help and is often seen converting parts from old aircraft into beautiful pieces of furniture at his company Aerotiques. He flies a Piper Cub amongst other aircraft in the skies over Gloucestershire and further afield. Darren has kindly donated his prize to fly2help to help support the amazing work that they do.
Congratulations to you all.