This product is no longer available, please use the navigation on the left to browse for alternatives
FAA071 Confident Flying: A Pilot Upgrade - Collins & Bradley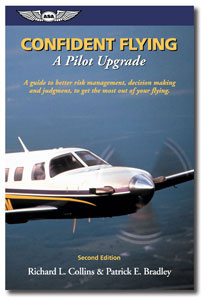 Product description:
In this unique book, the authors' reflective insights provide the basis for a program of risk management, sound decision making, and judgment. Richard Collins and Patrick Bradley share both good and bad decisions they've made throughout their flying careers. Through their personal anecdotes, stories, and familiar writing style, readers will absorb the information without even realising they're being taught some of the most valuable lessons in their aviation career.
Soft cover, 268 pages, indexed.
---
£13.99 £13.99 inc. VAT (Exempt)*
---
Share this product:
---