BTG911 Flying the Edge - McAllister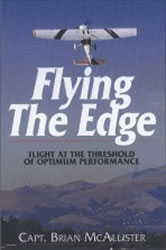 Product description:
This is a technical and instructional reference book for all pilots, with a theme that concentrates on the full utilisation of an aircraft's safe flight parameters. In particular it covers the subject of low-speed flight during the take-off and the landing, including STOL (Short Take-Off and Landing) aeroplanes.
Essential performance problems found in normal flying, such as the best usage of lift, the correction of faulty approach and landing, short-field take-off and landing technique and the safety emergency landing procedure are covered in a clear, readable manner. It is a book that will help pilots at all levels of experience.
---
£20.00 £20.00 inc. VAT (Exempt)*
---
Share this product:
---