ICH505 AvioPortolano, 2020 LO Austria Chart 1:500 000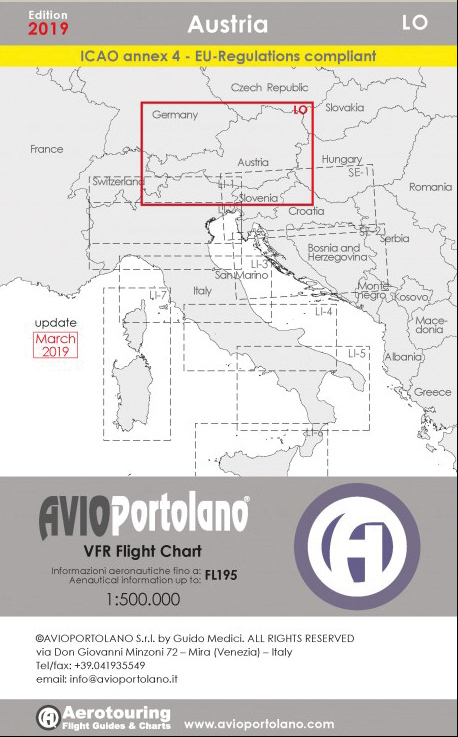 Product description:
Aeronautical paper title: LO - AUSTRIA
By purchasing the aeronautical map in paper format you have the right to download the same card in digital format and the AIRMATE air navigation software for FREE!
Product code: 0183
Publisher: Avioportolano srl
Description: The card includes the entire Austrian nation, the south-eastern part of Germany, part of Italy, Switzerland, Slovenia, Croatia, Hungary, Slovakia and the Czech Republic for a total of 298 airports indicated.
Paper: matte with 12 micron lamination on one side
Language: Italian / English
Last update: -
Cartographic base: © AVIOPORTOLANO® srl - Lambert conformal conical projection (central meridian 16°, standard parallels 40° and 52°, origin latitude 30°)
Standard: ICAO (International Civil Aviation Organisation) "International Standards and Recommended Practices - Annex 4 Aeronautical Charts" .
Meridians and cutting parallels: from the meridian 09° 30' to the meridian 17° 00' and from the parallel 48° 30 to the parallel 46° 30'
Number of airports reported: 298
Paper size in open format: 1210 X 715 mm
Closed format : 135 X 240 mm
Folds: 8
---
£15.99 £15.99 inc. VAT (Exempt)*
---
Share this product:
---
Related products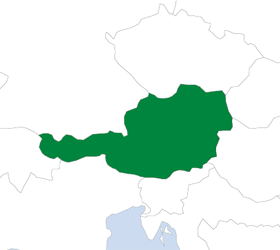 Austria Trip Kit (no binder) 10012671
£43.70
£43.70 inc. VAT (Exempt)
View Product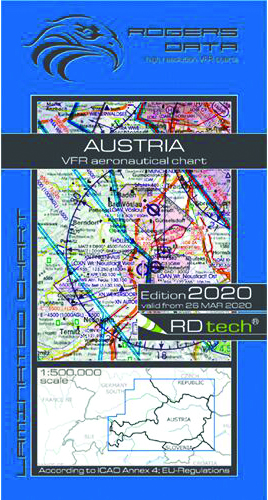 2020 Austria VFR Chart 1:500 000 - Rogersdata
£21.70
£21.70 inc. VAT (Exempt)
View Product