Bacoban for Aerospace Box of 50 Packs x 25 Wipes
Pooleys stock code: SGE411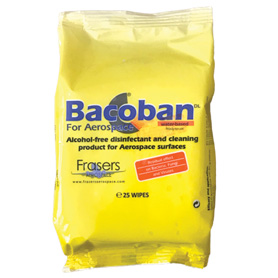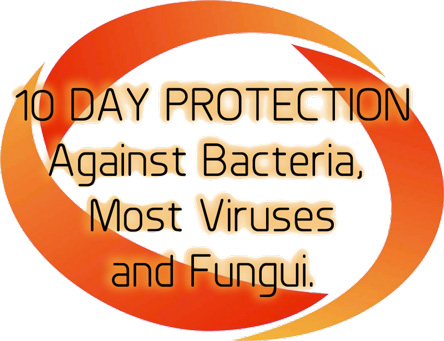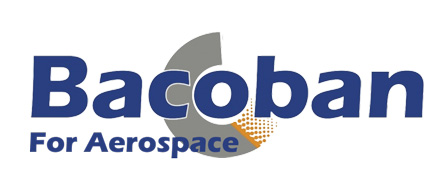 Residual antimicrobial effect for up to 10 days (tested according to ASTME 2180).
Dermatologically tested (epicutaneous test with 30 test persons) - excellent skin tolerance.
For full details, please read the safety and efficacy sheets that can be downloaded below.
CORONAVIRUS OUTBREAK
Bacoban for Aerospace is effective against the Coronavirus!
Now available in a fogging form.
Each pack has 25 individual impregnated wipes. Bacoban for Aerospace Aircraft Cabin Antiviral & Antibacterial Cleaner.
Following the cabin disinfection, the first passenger carrying any virus will re-infect the aircraft allowing the virus to be spread amongst passengers. This problem has now been solved by using Bacoban for Aerospace.
This unique product will provide continuous disinfection for 10 days! No other product on the market will provide continuous protection in this way. Viruses, bacteria and fungus will be destroyed continuously for this period. Infections on-board aircraft will be dramatically reduced.
Bacoban for Aerospace establishes an ultra-thin nano layer with a lasting effect. The technology used is a sol-gel process that develops a solid gel nano layer. The biocides used to kill germs and viruses are embedded in the porous structure of the sponge like sol-gel and are washed out again slowly when coming into contact with water (bacteria, enveloped viruses and fungi are always surrounded by water).
Bacoban for Aerospace has been tested for the effective destruction of the following viruses:
Bacteria: Staphyloccocus aureus, Pseudomanas aeruginosa, Escherichea faecalis etc.
Viruses: Coronavirus, Hepatitus B and C, HIV, Influenza including H5N1 and H1N1, Rotaviruses, Adenoviruses, Herpes, and many more.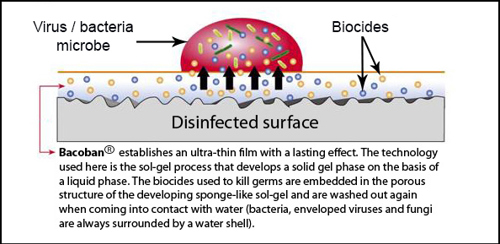 Features:
Effective for 10 days against bacteria and viruses.
Easy application, wipe on, wipe off.
HS code: 3808 9490 00
FAQs Section:
Can Bacoban be sprayed or fogged on to avionics in an aircraft? Fogging no problem. If spraying, spray onto a microfibre, then wipe the surface with the microfibre. Do not spray directly onto avionics.
How long should you leave an area/aircraft after an application of Bacoban and before using that area/aircraft? One hour in warm weather, all you need to do is let it dry completely.
Does Bacoban degrade any materials such as rubber, leather or any other materials commonly found in light aircraft? No, the Boeing test covers most aircraft substrates.
Does Bacoban stain and would it stain clothing? No, the concentrate is a clear liquid, the product you have has either 1 or 3% concentrate in it.
Should I wear PPE whilst applying it?

Fogging yes, full PPE plus facemask etc. Hand applied, no need.
**We are unable to ship Bacoban products to the USA**
---
£124.95 £149.94 inc. VAT (20%)*
---
Share this product:
---
Related products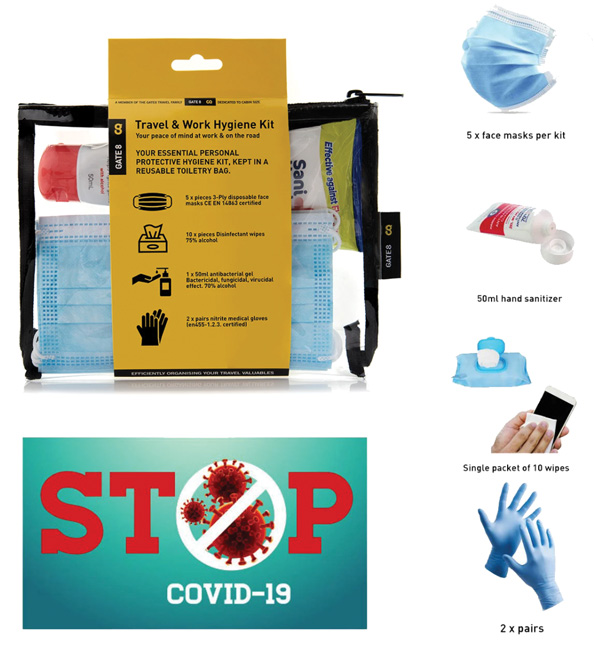 GATE8 Work & Travel Hygiene Kit
£16.66
£19.99 inc. VAT (20%)
View Product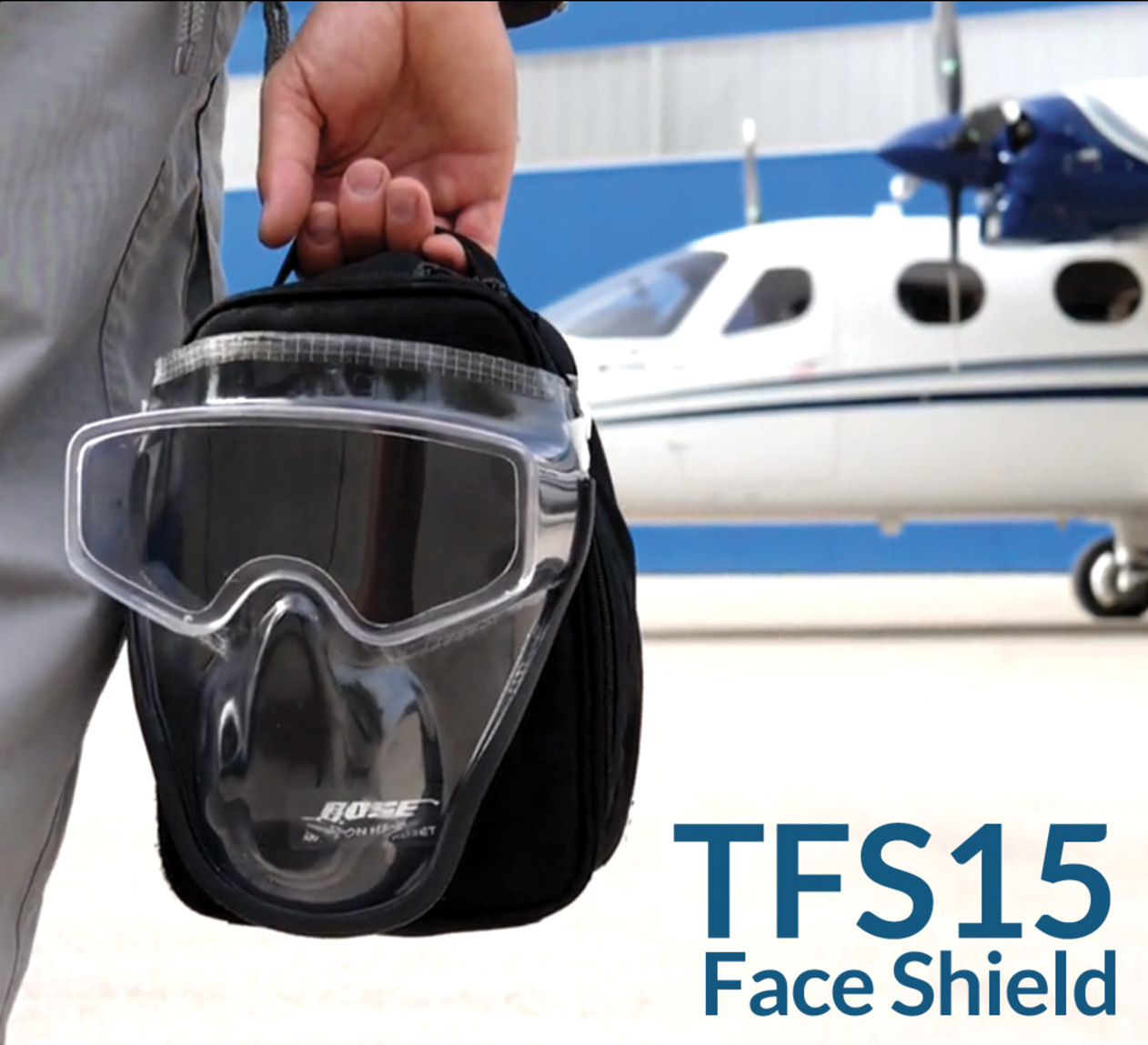 Tecnam TFS-15 XV Extra Vision Face Shield for Aviation
£37.50
£45.00 inc. VAT (20%)
View Product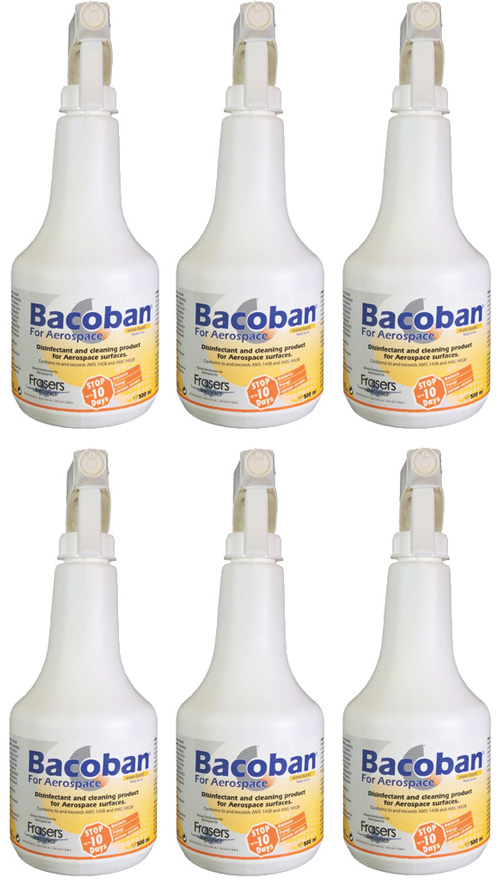 Bacoban for Aerospace 1% – Case of 6 x 500ml bottles
£60.00
£72.00 inc. VAT (20%)
View Product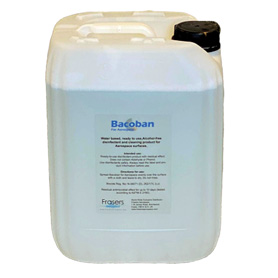 Bacoban for Aerospace 1% – 10 Litre Container
£104.95
£125.94 inc. VAT (20%)
View Product