Bad Elf GPS Pro
Pooleys stock code: NGP902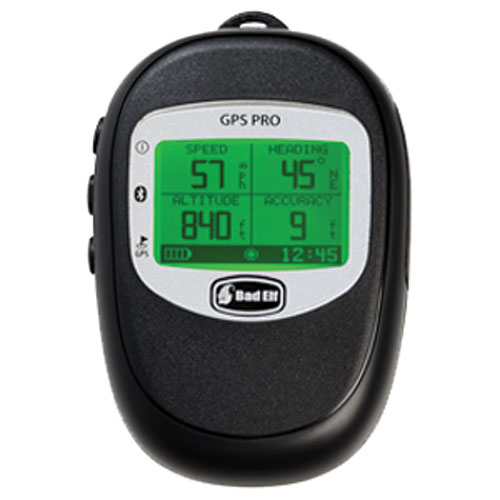 NEXT-GENERATION GPS RECEIVER & DATALOGGER
FOR IPOD TOUCH, IPHONE, AND IPAD
We didn't want to launch yet another generic external Bluetooth GPS receiver like those on the market today -- so we're not. Instead, we packed a ton of great next-generation features into a small, rugged, and affordable package:
Connect up to 5 devices at a time via Bluetooth.  The real-time GPS data from a single GPS Pro can be used by up to 5 devices simultaneously - any combination of supported iPad, iPhone, or iPod touch devices. This is great for:
Jet pilots

: the entire crew can share the data from a single GPS Pro sitting on the glareshield or in the side window. Or share your GPS data with passengers in the cabin so they can follow the flight on their own iPads.

General aviation pilots

: use your iPhone or iPod touch as a backup for charts on your iPad, switching instantly if needed without re-pairing or connecting.

Sailors

: With the self-contained power supply on both the Bad Elf GPS and the iPad, iPhone, or iPod touch, sailors have a powerful navigation tool that does not consume limited on-board power.

Power Boaters

: Share GPS data from fly bridge to deck bridge to fish catching area. Shared GPS data allows passengers and crew to know when they are approaching marked way points.

Road trips

: the whole family can share the GPS data from a single GPS Pro. Never hear "Are we there yet?" again!
Large LCD screen with backlight.  The GPS Pro features a large, backlit LCD screen that provides great visibility day or night. See your location, speed, heading, altitude, and GPS lock status at a glance. No need to guess the meaning of blinking LED indicators or close a favorite app to check the status of your GPS receiver.
Extra-long battery life and 10Hz reporting rate.  The GPS Pro provides a battery life of up to 16 hours when connected to your iOS device via Bluetooth, and supports a GPS reporting rate of 10 times per second (configurable). With the GPS Pro in standalone datalogger mode and Bluetooth turned off, you can expect a battery life of up to 32 hours.
Standalone GPS datalogger (100+ hours).  Record adventures without draining the battery on your iPhone or iPod touch. No need to keep an app running. Just start and stop the GPS Pro's datalogger using a simple button press. Discover something cool? Mark your current location as a point of interest (POI) with another button press. At the end of your activity, transfer the log to your iPhone, iPod touch, or iPad to view your trip and share it with friends and family via email, Facebook, or Twitter.
IPX4 certified, rugged, and splash-proof.  Don't be afraid to take your GPS Pro along on your next adventure. Compact, rugged, and splash-proof, the GPS Pro will survive the journey and then let you share with your friends your amazing trip. Works with all location-based apps.
Apps galore. The Bad GPS Pro meets all requirements under Apple's MFi program, and works great with any location-based app in the App Store. To simplify your search for great apps, we've categorised many apps that we know work well with the Bad Elf GPS Pro by your favourite activities. We've tested the GPS Pro with all the major flight planning and aviation chart apps as well as many marine, fitness, car navigation, and golf apps.
Simple to use. Easy to enjoy.  At Bad Elf, we strive to create high quality, dependable products consistent with Apple's philosophy of "It just works!" Just turn on your Bad Elf GPS Pro and go play. No complicated setup. Extra long battery life. No hassles.
Great Products. World-Class Service.  Need assistance? Bad Elf works hard to provide world-class customer service. If you have questions or concerns, please ask us. We stand behind our products and want you to be a delighted customer.
PACKAGE CONTAINS:

BE-GPS-2200 GPS Pro device
3ft (90cm) Mini-USB cable for charging
12-24V DC vehicle USB charger
Detachable Neck Lanyard
User's Manual (downloadable PDF here)

COMPATIBILITY:

iPod touch (2nd, 3rd, 4th & 5th generations)
iPhone 6 Plus, 6, 5S, 5C, 5, 4S, 4, 3GS, and iPhone 3G
iPad Air 2, Air, iPad (3rd & 4th generations), iPad 2, iPad
iPad mini 3, iPad mini 2, and iPad mini


Please note, to run the Bad Elf GPS App, your device must support iOS 8.0+

GPS TECHNICAL SPECS:

Fast GPS lock times (45 seconds or less)
2.5 meter accuracy
60,000ft / 18,000m maximum altitude
1000mph / 1,600kph maximum speed
Up to 10Hz position update rate
66-channel MTK GPS chipset
SBAS/WAAS/EGNOS/MSAS

PRODUCT SPECS:

Mini-USB port for charging and ElfPort expansion
128x96 dot LCD screen with backlight
100+ hour datalogger memory
Upgradeable Firmware
Dimensions: 3" x 2.4" x 0.7" (76.5mm x 61.5mm x 17.5mm)
Weight: 3.2 oz (90 grams)
---
£225.00 £270.00 inc. VAT (20%)*
---
Share this product:
---
Related products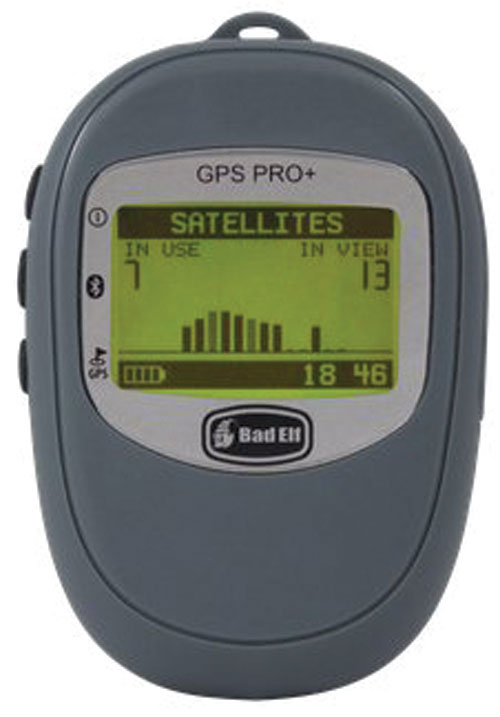 Bad Elf GPS Pro+ with Bluetooth made for iPod touch, iPhone and iPad.
£325.00
£390.00 inc. VAT (20%)
View Product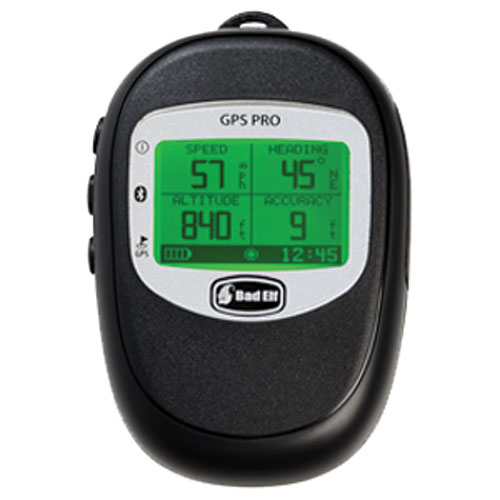 Bad Elf GPS Pro
£225.00
£270.00 inc. VAT (20%)
View Product