BOE107A Boeing 777-300ER Snap-Together Model with Wood Base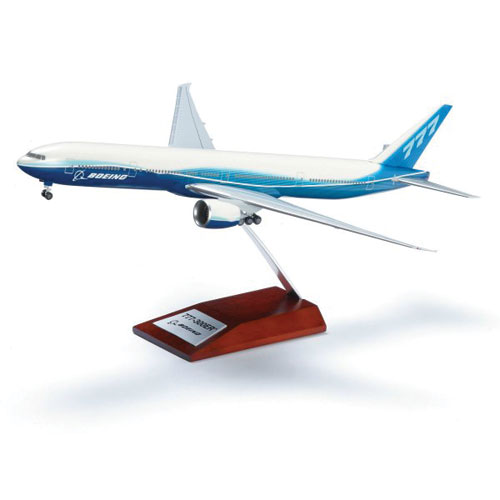 Product description:
The 777-300ER is an extended-range version of the 777-300 with more powerful engines; raked wingtips; strengthened body, wings, empennage, nosegear, engine struts, and nacelles; new main landing gear; and provision for extra fuel tanks. The 777-300ER's range is up to 7,250 nautical miles (13,427 km) carrying 365 passengers. Rollout of the 777-300ER was on November 14, 2002, followed by first flight on February 24, 2003. Combining the 777-300's capacity with the 777-200ER's range, the -300ER is currently the top-selling 777 variant. Share in this achievement with our collectible, easy-to-assemble 1:200-scale model of the 777-300ER. Reproduced from Boeing engineering drawings, this model is made of precision-molded plastic with a weighted body and special wood-base stand with an engraved plaque. High-luster, pearlescent finish sets off detailed, accurate decal markings. Makes a memorable personal or business gift. Ages 12 and up (not a toy). Wingspan: 12". Length: 14.5". Imported.
Not intended for children
---
£50.79 £60.95 inc. VAT (20%)*
Approximate currency conversions (for reference only)
€61,15 €73,38 including VAT (20%)*
*VAT is not charged for deliveries outside the EU
---