BTG122 Flying Concorde, The Full Story - Calvert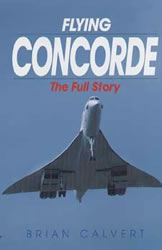 Product description:
Flying Concorde is written in a manner which gives anyone who knows the author as well as I do a feeling of talking to him in person. He knows the aeroplane, and he writes about it in such a way that even the most technical aspects can be readily understood. It is a delight to read.The story of Concorde is a large subject, concerning as it does both the technical history of the aircraft and its struggle to be accepted as an airliner. I am sure that those who read this book will enjoy it as much as I have. - Brian Trubshaw, Chief Test Pilot
This new edition of what has become one of the major references to the world's first and only supersonic airliner, has an added section that covers the cause of the Paris tragedy and the remedies and improvements that have been made in the light of the accident report. It also brings the reader up to date with many other improvements that have been made to the aeroplane that will keep it in service for many years to come.
| | |
| --- | --- |
| ISBN: | 9781840373523 |
| PUBLISHED (THIS EDITION): | November 2003 |
| PAGES: | 256 |
| BINDING: | Paperback |
| SIZE: | 234x156 mm |
| INSIDE: | Black and white photographs and diagrams |
---
£16.99 £16.99 inc. VAT (Exempt)*
Approximate currency conversions (for reference only)
€20,46 €20,46 including VAT (Exempt)*
*VAT is not charged for deliveries outside the EU
---