BTG095 Handling The Big Jets - Davies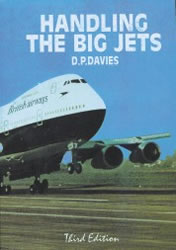 Product description:
Published by the Nick Davies, son of the author, this book is recommended reading for those wishing to be professional pilots. This book is seen by many as the definitive source of information for future as well as current airline pilots. The first and still the only textbook on jet aircraft handling qualities.
This edition includes chapters on the Boeing 747 and asymmetric flight as well as up-to-date revisions to the text. An explanation of the significant differences in flying qualities between jet transport aeroplanes and piston engine transport aeroplanes together with some other aspects of jet transport handling.
---
£35.00 £35.00 inc. VAT (Exempt)*
Approximate currency conversions (for reference only)
€42,14 €42,14 including VAT (Exempt)*
*VAT is not charged for deliveries outside the EU
---