CFR544 Air Million Edition 2022 – Germany & Central Europe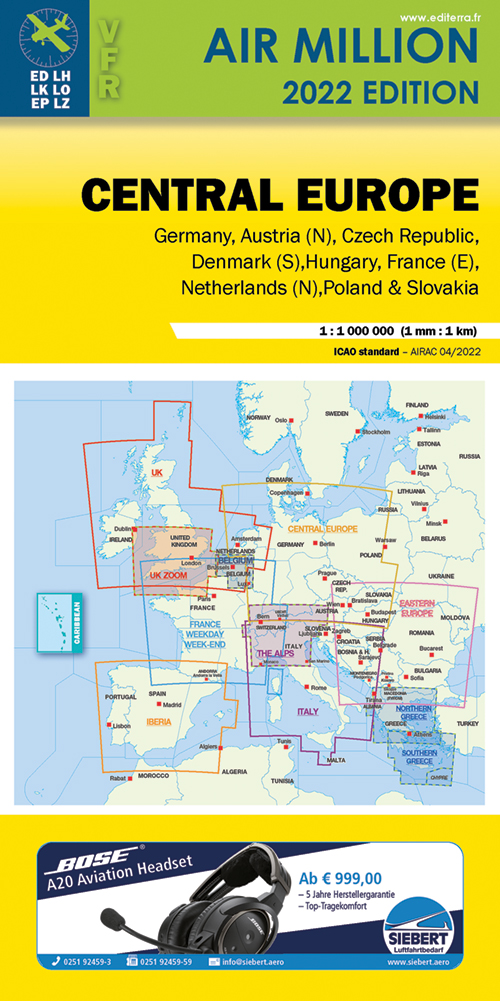 Product description:
Explore new horizons with the range of AIR MILLION maps of Europe
The Central Europe 2021 map covers at a scale of 1: 1,000,000 all of Germany, Czechia, Slovakia, Austria, Poland, and most of Switzerland, Hungary and Denmark.
The map shows all the airspace from SFC to FL180. All the zones from class A to E are included, as well as nearly 500 aerodromes, AIP, private or ULM sites, all prohibited, restricted and dangerous zones, TMZ zones and the new RMZ zones (Radio Mandatory Zones), as well as natural parks, VFR reporting points, radio navigation facilities (VOR, VOR, DME and NDB) etc.
Major improvements over previous editions:
Integration of TMZ transponder codes and frequencies
overhaul of the graphic charter of the aeronautical overlay
overhaul of the geographic background charter to improve the readability of the map
reintegration of class E spaces
reintegration of 1 of the hundreds on zone and AD frequencies
new design for AD cartridges (with name, ICAO code, altitude, call, approach and ATIS frequency)
LAST UPDATE AIP: AIRAC OF 21/04/2022
Product dimensions: 12 cm x 25 cm (folded format), 110 cm x 50 cm (open format).
---
£17.95 £17.95 inc. VAT (Exempt)*
Approximate currency conversions (for reference only)
€21,61 €21,61 including VAT (Exempt)*
*VAT is not charged for deliveries outside the EU
---