CFR555 Air Million Zoom Edition 2022 – 1:500 000 Greece, Southern Balkans (Chart 2/2)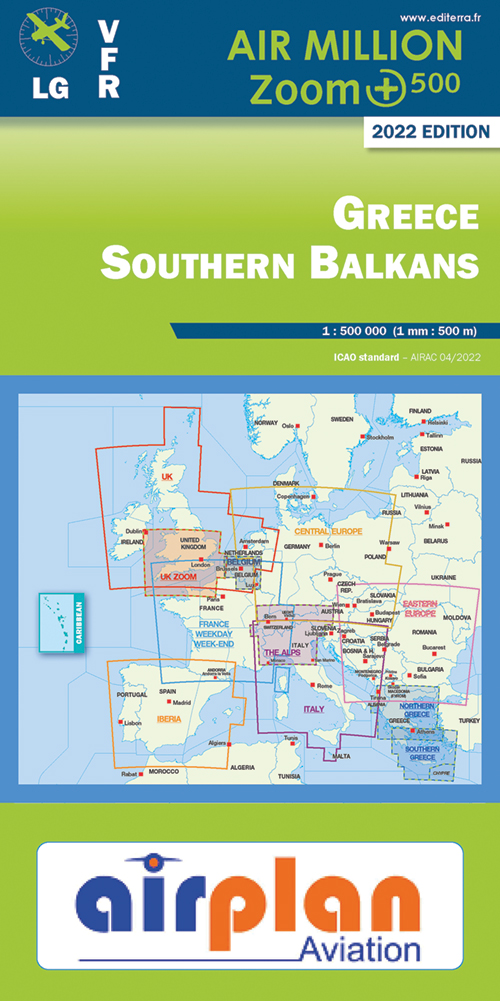 Product description:
AIR MILLION ZOOM the 1: 500,000 scale map of Greece!
Like Ulysses, let yourself be seduced by the song of the sirens and go back to the heart of Greek mythology with the AIR MILLION ZOOM map of Greece 2021!
This brand new map covers at a scale of 1: 5,000,000 the southern part of Greece and the island of Cyprus.
The AIR MILLION ZOOM range retains the same characteristics as the million cards (graphic charter, format, finish, coated paper, etc.).
On the other hand, these maps will offer greater precision as to the geographic background and the aeronautical overlay.
Air Million Zoom Greece is the ideal complement to Million Cards for all your flights in the Balkans.
All the information necessary for daytime VFR flight is included:
airspace from SFC to FL180;
all controlled areas from class A to E
all restricted areas (restricted, dangerous, prohibited, military training areas, etc.)
more than 200 aerodromes, AIP, private or ULM sites
radio navigation resources (VOR, VORDME and NDB)
obstacles to navigation (> 400 ft)
reporting points and VFR routes
LAST UPDATE AIP: AIRAC OF 21/04/2022
Product dimensions: 12 cm x 25 cm (folded format), 130 x 50 cm (open format).
---
£17.95 £17.95 inc. VAT (Exempt)*
Approximate currency conversions (for reference only)
€21,61 €21,61 including VAT (Exempt)*
*VAT is not charged for deliveries outside the EU
---