GIB011 RAF 1918-2018 Centenary Playing Cards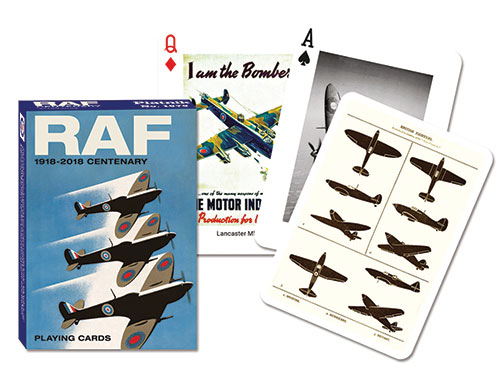 Product description:
100 years of the ROYAL AIR FORCE celebrating the aircraft and airmen who defend our shores and triumphed in two world wars; and the commanders, crews and gallant women who made victory in the air possible. The RAF in iconic or rare photos and posters, and in popular culture.
Like all Piatnik playing cards, RAF Centenary is a pack of high quality cards that are presented in a durable tuck box. With 52 unique designs, these cards are a joy to handle again and again.
Piatnik branded playing cards 
Presented in a durable tuck box
Ideal for collectors and plane enthusiast 
Pack size 95x70x20mm
Card size 63x88mm
Includes 52 unique card designs
---
£4.58 £5.50 inc. VAT (20%)*
Approximate currency conversions (for reference only)
€5,51 €6,62 including VAT (20%)*
*VAT is not charged for deliveries outside the EU
---