BTG904 Aircraft Performance Theory for Pilots - Swatton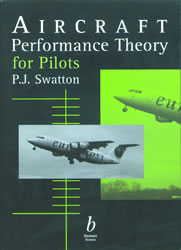 Product description:
The new European Joint Aviation Requirements (JARs) lay down safety rules for every public transport flight on matters concerning weight, altitude and temperature; take-off and landing distance; cruise flight level and speed; decent angle and rate. The subject of aircraft performance forms an important part all Flight Crew Licensing examinations for commercial and airline transport pilot licences and this book provides a clear but authoritative text on a difficult topic.
It will also be of interest to commercial pilots needing to upgrade their annual ground test to JAR standards and to flight planners, operations controllers and airport operators. Contents include: General; Aerodrome surfaces; Surface contamination; The Principles of Flight; The variables; Class 'A' aeroplanes; Take-Off; Climb; En-route; Landing; The complete flight; Class 'B' requirements; Definition; and Test Questions and Answers.
---
£45.00 £45.00 inc. VAT (Exempt)*
Approximate currency conversions (for reference only)
€54,18 €54,18 including VAT (Exempt)*
*VAT is not charged for deliveries outside the EU
---