BTC007 Flight Instructors Manual - Campbell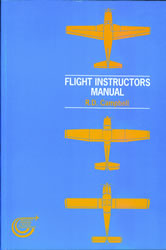 Product description:
By one of the UK's best known and highly qualified examiners this classic text is the Flying Instructors Bible. Specifically written to cover the content and sequential layout of flight training sections in the UK PPL Syllabus and the UK Assistant Flying Instructor Syllabus. It is primarily for the use of flying instructors undergoing training, but also when they are obtaining experience in the instructional role.
---
£34.50 £34.50 inc. VAT (Exempt)*
Approximate currency conversions (for reference only)
€41,54 €41,54 including VAT (Exempt)*
*VAT is not charged for deliveries outside the EU
---