NSA030 Pooleys Travel Tie-Down Kit - HEAVY DUTY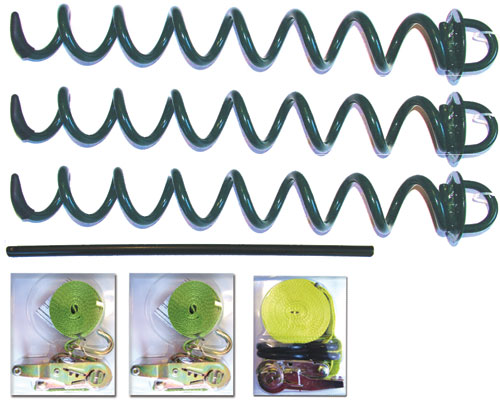 Product description:
With 400mm spirals. Tested to the extreme by Lloyds British. Life-Time Guarantee–All products are galvanised/zinc plated. Reduce Hangar Fee Costs–The Aviator is an all year round product. Therefore the time spent on grass can be increased thus reducing high hangarage costs. Lloyd's Tested–The Aviator system gives three point anchorage with one ton holding power! Easy to Use–All systems supplied with simple instructions for quick set up.
Kit Includes:
3 x 400mm Spirals
2 x Strong Strap/Ratchet 1 Ton (wings)
1 x Strap/Ratchet 300kg (tail)
1 x Steel Tightening Bar
1 x waterproof Canvas bag
Weight of bag and contents is 4.50kg
---
£65.79 £78.95 inc. VAT (20%)*
Approximate currency conversions (for reference only)
€79,21 €95,05 including VAT (20%)*
*VAT is not charged for deliveries outside the EU
---