POW040 Power Monkey eXplorer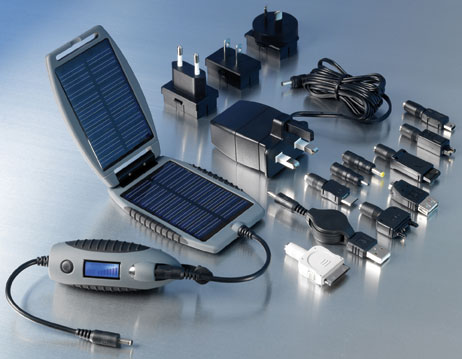 Product description:
The powermonkey eXplorer portable charger has proved to be an invaluable piece of kit, providing essential power in the most remote locations. Incorporating the solarmonkey solar charger, the powermonkey eXplorer lets you charge wherever, whenever.
The powermonkey eXplorer is not just for adventure travellers. Compatible with the majority of mobile phones, iPods (now including iPhone 3GS/4), MP3 / MP4, PDAs and portable games consoles including the Sony PSP and Nintendo DS & DS-Lite, powermonkey eXplorer is a portable charger for your devices - giving you 96 hours of standby on your mobile, 40 hours on your iPod, 5 hours on your games console, 48 hours on your PDA and 6 hours on MP3/MP4 players.

Make sure your powermonkey eXplorer's got full power at all times by charging one of three ways: via the included universal mains charger, via USB or via the included solar panel!

The kit includes a useful Velcro strap, enabling the solarmonkey to be attached to a rucksack or tent - perfect for charging the powermonkey battery unit when you're out and about in the sun. It can even be hung from a window, left in a car or taken anywhere the sun shines! Make sure the powermonkey eXplorer portable charger unit is turned OFF when re-charging from the solar panel in order to reduce charging time! You can even plug the solarmonkey into the back of one of our Sound traveller speakers and it will run your speakers from the power of the sun - no batteries needed!
Each powermonkey-eXplorer kit contains...

1 x Powermonkey-eXplorer portable charger
1 x Solarmonkey portable solar charger
1 x Universal mains charger which will work in over 150 countries and has interchangeable heads for UK, Europe, US & Australia
Tips for: Nokia and mini Nokia, Retractable USB cable, Micro USB, Mini USB, Samsung G600, iPod / iPhone tip, LG Chocolate, Sony Ericsson wide connector, Female USB, DC4.0 for Sony PSP, Nintendo DSi
1 x Pouch for storage
1 x User guide.
---
£79.17 £95.00 inc. VAT (20%)*
Approximate currency conversions (for reference only)
€95,32 €114,38 including VAT (20%)*
*VAT is not charged for deliveries outside the EU
---