PowerCHIMP
Pooleys stock code: POW070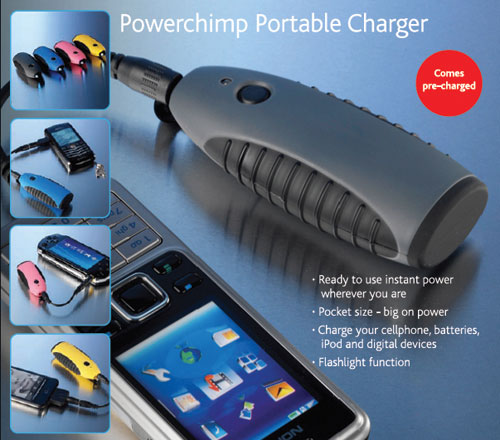 Rechargeable power in your pocket! Introducing - the powerchimp! A nifty little portable charger for most handheld gadgets which can also re-juice rechargeable batteries! Use it to recharge your mobile phone, iPod/MP3, PDA, PSP and other digital devices! Choose from grey, blue, pink or yellow and you'll wonder how you ever lived without this little chap!
The powerchimp works by using the two included rechargeable AA batteries to power your devices and will recharge most mobile phones once fully before the batteries in the chimp will need recharging. We also now include two clever little adaptors that you can put two AAA rechargeable batteries (not included) into and then pop them into the powerchimp unit, so the powerchimp will run off AAA as well! See the step-by-step guide by clicking here! We have aimed to include the most popular mobile phone tips including the Sony-Ericsson wide connector, Samsung E900, Mini USB (motorola V3 Razr/Krzr,etc), LG Chocolate, Nokia and Mini Nokia. If you need an alternative connector, you can purchase these directly from us here at Powertraveller.com.
Please note, the powerchimp will not work with Apple iPhone - if you require a charger for an iPhone, please take a look at the powermonkey classic or powermonkey-eXplorer. These will provide approximately 2 full charges for an iPhone. The clever little chimp will also power your Soundtraveller portable speaker should you be lucky enough to own one!
Simply attach it to the speaker and play your tunes without the need for inserting batteries into the speaker unit! The powerchimp portable charger comes complete with a Made for iPod approved charging tip, so you can re-juice your iPod whenever you run out of power! You can use the powerchimp with all iPods including the new iPod Nano as well as the iTouch - a total iPod solution! Why let a little thing running out of battery power on your Sony PSP stop you from playing games? With the powerchimp, you can recharge your PSP with the included DC4.0 charging tip! You can also purchase extra adaptors from us for the Nintendo DS, Nintendo DS-Lite and new Nintendo DSi portable games consoles!
Game playing has never been such fun! Use your solarmonkey portable solar charger to recharge it... Why not take advantage of our complete convergent charging solution and team up your powerchimp with one of our solarmonkeys? Use this compact solar charger to recharge the batteries inside the powerchimp from the power of the sun! When using the solarmonkey to recharge the powerchimp, the LED on the chimp may flash red if the solar strength is low - continuous red LED means that the powerchimp is being charged. Alternatively, once your little powerchimp has used all its juice, simply connect it to your computer's USB socket via the included retractable USB charging cable and recharge its poor exhausted batteries! When charging, the LED will be continuously red, once it's fully charged, the LED will turn green.
The powerchimp also features quick battery charging with over charge / discharge protection and a pulse charging technology system to ensure long battery life. powerchimp will be fully charged via USB in 5 hours. What better way to keep your powerchimp in power than with our fantastic new Powertraveller rechargeable batteries! The powerchimp comes complete with the requisite 2 x AA Ni-MH 1800mAh Powertraveller batteries, so you can use the chimp straight out of its box. But that's not enough, we thought....let's add a useful torch to it as well! Yes - the powerchimp portable charger has its own integrated bright LED torch located at the top of the unit. So you can use it to locate your keyhole, your shoes in the dark or even that five pound note that you "just know" is at the bottom of your bag somewhere...
---
£21.46 £25.75 inc. VAT (20%)*
---
Share this product:
---