Complete Kit with Holder for Apple iPhone SE, iPhone 5 & iPhone 5s
Pooleys stock code: RAM-HOL-AP11KIT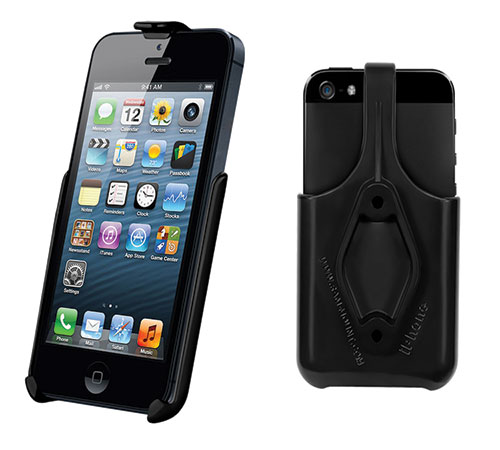 This RAM high strength composite holder is designed for the following devices:
Apple iPhone SE
Apple iPhone 5 
Apple iPhone 5S
HOLDER: The device holder is supplied with nyloc nuts and bolts for connecting it to any of the base kits listed in the drop down menu below, resulting in a complete mounting system. If you want to replace the device holder at a later date, an alternative holder can be used with the existing base kit.
ACCESSORY: Diamond connecting plate.
ARM: The standard double socket Arm, has a socket at both ends that accommodates connecting balls. A spring loaded adjustment knob opens the end sockets, allowing you to pivot the ball and socket connection. This socket technology allows for almost infinite adjustment and perfect viewing angles. Dimensions: overall length: 94mm. Socket-to-socket length: 76mm.

BASE CHOICES (SELECT YOUR PREFERENCE FROM THE DROP DOWN LIST BELOW):
1. RAM-B-224-1  Twist lock heavy duty suction cup with diamond plate connector Accessory.
2. RAM-B-121B  Yoke suitable for Cessna/Piper mounting and fits bar or rail from 16mm to 32mm diameter.
3. RAM- B-231Z  U-bolt to fit bar or rail 13mm to 32mm diameter.
4. RAP-B-397-1 Small tough-clamp™ for attaching your light weight devices. Fits flat surfaces and square rails up to 25mm thick, & round bars or rails from 6mm to 19mm diameter.
5. RAP-B-400  Small tough-claw™ can be clamped on bars or rails from 16mm to 38mm diameter & is ideal for mounting tablets, action cameras & smartphones on your aircraft yoke.
6. RAP-B-397-2  Medium tough-clamp™ for attaching your light weight devices. Fits flat surfaces and square rails up to 44mm thick, & round bars or rails from 19mm to 28mm diameter.
7.  RAM-B-127B  This clamp base is designed to mount to the lip/edge of a flat surface up to 1.12" thick. Popular mounting edges include a car side window edge lip or glare shield on an airplane. The base has two composite bolts that, when tightened, clamp the base to the lip surface. A RAM 1" diameter rubber ball is connected to the base allowing you to connect a RAM 1" diameter arm socket and connection plates to create the perfect mount for your application.
Please Note: This holder is not suitable if you are using a case/skin/sleeve with your iPhone. If you wish to leave this on then we recommend the X Grip holder (RAM-HOL-UN7B). It is the sole responsibility of the user to comply with current legislation when mounting these products in vehicles. If your mount Kit is likely to be subjected to severe vibration it is advisable to tether your device to the vehicle.
---
:
From £42.38 £50.86 inc. VAT (20%)*
---
Share this product:
---