RAM-B-149Z U-bolt Base + standard Arm + diamond plate Accessory (COMBO)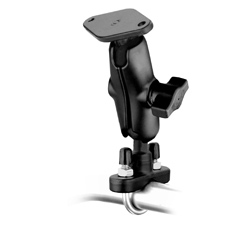 Product description:
The RAM-B-149Z U-bolt Base makes attaching to handlebars, tubing, or railing a breeze. Simple to install and easy to use, the possibilities become endless. Rubber ball and socket technology allows for almost infinite adjustment and perfect viewing angles. High quality materials ensure your device is safe, secure, and within easy reach. RAM's patented design also dampens shock and vibration helping to extend the life of your mobile device. Included in this package is hardware that accommodates rails from 13mm to 32mm in diameter.
Material: Black powder coated marine grade aluminium
Components:
RAM-B-238
RAM-B-201
RAM-B-231Z
---
£32.49 £38.99 inc. VAT (20%)*
Approximate currency conversions (for reference only)
€39,12 €46,94 including VAT (20%)*
*VAT is not charged for deliveries outside the EU
---