RAM-B-231Z U-Bolt (BASE)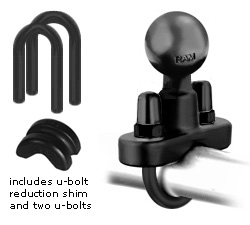 Product description:
This U-bolt Base contains a rubber ball designed to sit at right angles to the mounting rail. The zinc coated metal u-bolts accommodate rails from 13mm to 32mm in diameter. The Base also includes black cover caps to be placed over the exposed ends of the u-bolt as well as a shim to cope with 13mm diameters.
U-Bolt:
Accommodates rails from 13mm to 32mm in diameter.
Two u-bolts supplied: 1 x 25mm & 1 x 32mm.
Zinc coated steel (not rust proof).
Material: Powder Coated Marine Grade Aluminium
---
£14.99 £17.99 inc. VAT (20%)*
Approximate currency conversions (for reference only)
€18,05 €21,66 including VAT (20%)*
*VAT is not charged for deliveries outside the EU
---