Aero Sense, AL-5 TKS Deicing Fluid (5 litre)
Pooleys stock code: SGE202A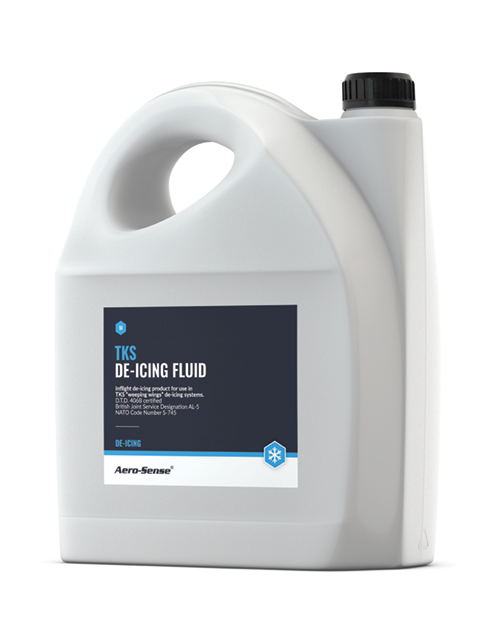 Please Note: Due to shipping restrictions this product can only be supplied to the UK, Ireland & Mainland Europe.
TKS de-icing fluid complies with AL-DTD406B and can be used in TKS "weeping-wings" de-icing systems. Diamond aircraft, Cirrus, Beechcraft, Cessna, Piper, Mooney, Kodiak, Hawker and many other aircrafts are equipped with the CAV-TKS system.
How does a TKS system fight in-flight icing?
A TKS system uses a TKS liquid based on ethylene glycol to coat the surface and prevent ice from accumulating. The leading edges of the wings, horizontal and vertical stabilizer are made of laser-drilled titanium panels, through which the fluid is pumped during in-flight icing conditions. A "slinger ring" may be used to distribute fluid on propellers, and a spray bar can be used to apply fluid to the windshield. The TKS fluid mixes with the ice accretion, depresses its freezing point, and allows the mixture to flow off the aircraft without freezing
What are the advantages of the TKS system?
Works for de-icing and anti-icing (curative and preventive for icing)
High performance : the fluid runback provides total airframe ice protection
Ease to use
What are the disadvantages of the TKS system?
Ice protection is limited to the amount of fluid (one to three hours of continuous ice protection is possible with a full tank of TKS fluid, depending on the specific system).
Joint Service Designation AL-5
British Military Specification DTD406B
NATO Code S-745
Properties

Physical state at 20°C: Liquid
Colour: Colourless
Odour: Characteristic
pH value: +/- 7,0
Density: 1,08
Vapour pressure (20°C): No data available
Vapour pressure (50°C): No data available
Solubility in water: Not applicable
Flash point (°C): 72°C

Brand
      Aero-Sense
Certification
      Meets AL-5 DTD 406B
Application

To be used in TKS deicing systems according the POH.
Can also be used for ground deicing of aircraft.

Safety

Review the Material Safety Data Sheet before use.
Shelf life: 36 months
PLEASE NOTE: IF YOU WOULD LIKE THIS SHIPPED OUTSIDE THE UK PLEASE DO NOT COMPLETE THIS ORDER. YOU MUST CONTACT US FOR SHIPPING COSTS ON +44(0)1234 750677.
---
£45.08 £54.10 inc. VAT (20%)*
---
Share this product:
---
Related products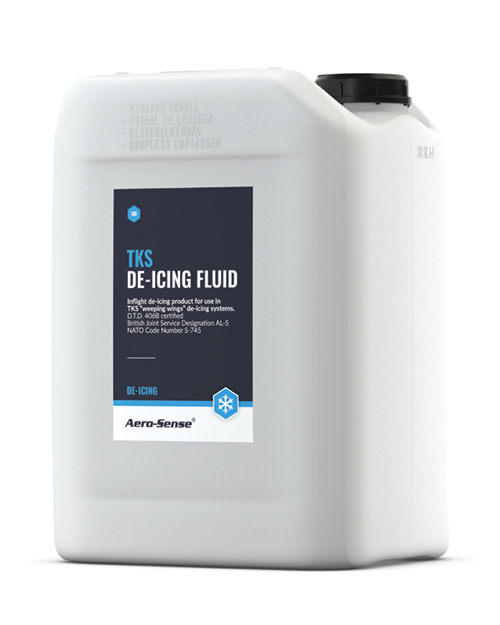 Aero Sense, AL-5 TKS Deicing Fluid (10 litre)
£74.16
£88.99 inc. VAT (20%)
View Product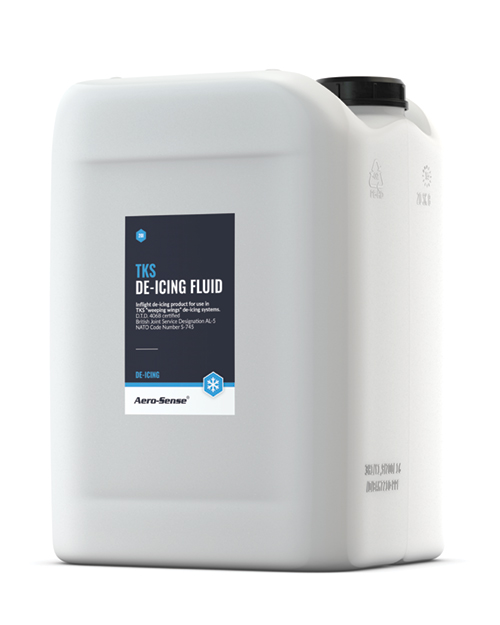 Aero Sense, AL-5 TKS Deicing Fluid (20 litre)
£141.67
£170.00 inc. VAT (20%)
View Product