Pooleys UK Flight Guide Amendments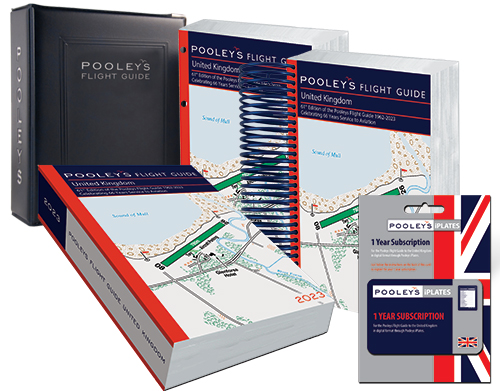 Please find below links to PDF downloads of amendments (Airnotes) to the Pooleys Flight Guide to the United Kingdom:
The one Airnote text document will show all changes to the Flight Guide over the year, i.e. Airnote 4 will incorporate all changes from previous Airnotes 1-3.
Details of the changes are shown in the Airnote 3 PDF (18th May 2023) (AIRAC 05/2023) which you can download by following this link.
These changes have occurred since the 2023 edition of the Flight Guide went to print in October 2022.
Individual airfield changes will be published here when available.
P1 & 2 Classification of UK Airspace (March 2023) - Changes to paragraph a.
P32 Frequency Monitoring Codes (December 2022) - Call signs amended and Norwich code added.
P174-P176 Cardiff (March 2023) - New VRP added and VFR routes amended.
P192-P195 Chichester/Goodwood (February 2023) - Op hrs, Noise abatement text and circuit diagrams.
P202 Coal Aston (December 2022) - Avoid area added to the SE corner of the graphic.
P206 Compton Abbas (April 2023) - Circuit height amended.
P250 Dunkeswell (May 2023) - Signal square removed and windsock locations revised.
P278 Edinburgh (April 2023) - Disused area designated as Apron.
P355a Haywood Farm Airfield (May 2023) - New Chart.
P407 Lashenden/Headcorn (January 2023) - Boundary  fence and Holds added.
P411 Lee-on-Solent (March 2023) - Remarks re written.
P488 Manchester/Barton (March 2023) - Circuits amended.
P536 North Weald (March 2023) - Circuit amended.
P540-P541 Norwich (March 2023) - VRP names updated.
P546a Oaklands Farm (East Tytherley) (May 2023) - New Chart.
P564 Oxford (March 2023) - New taxiway B extended.
P643 Sleap (May 2023) - Parking area revised, major changes to arrivals and helicopter operations.
P678 Swansea (December 2022) - New holds added and new taxiway C added.
P742 Wolverhampton/Halfpenny Green (May 2023) - New asphalt runway 10/28 added.
P750/751 Wycombe Air Park/Booker (May 2023) - Circuits revised.