Pooleys UK Flight Guide Amendments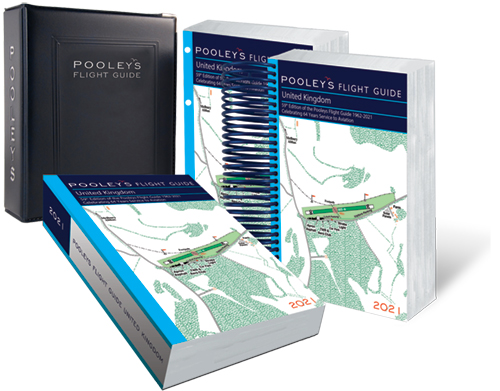 Please find below links to PDF downloads of amendments (Airnotes) to the Pooleys Flight Guide to the United Kingdom:
The one Airnote text document will show all changes to the Flight Guide over the year, i.e. Airnote 4 will incorporate all changes from previous Airnotes 1-3.
Details of the changes are shown in the Airnote 4 PDF (7th October 2021) which you can download by following this link.
These changes have occurred since the 2021 edition of the Flight Guide went to print in October 2020.
Bicester - 3rd December 2020 (Change to airfield/Runway layout)
Bidford - 3rd December 2020 (Contact details amended)
Biggin Hill - 14th January 2021 (Full revision, circuits added and new Noise Sensitive Area chart included)
Cardiff - 12th August 2021 (Frequency amended)
Cark - 3rd December 2020 (Contact details amended)
Carrickmore - 3rd December 2020 (Fuel & Contact details updated)
Castle Kennedy - 3rd December 2020 (Location, RNAV data and Contact details updated)
Clipgate - 3rd December 2020 (Fuel & Contact details updated)
Coal Aston - 22nd April 2021 (Changes to airfield access locations)
Full Sutton - 29th December 2020 (Radio and circuit height amended)
Helicopter Routes in London - 3rd December 2020 (Changes to routes and extra fields added to tables)
Kittyhawk Airfield - 12th August (Circuit diagram added)
Lashenden/Headcorn - 21st December 2020 (New Noise Abatement Chart)
London Heliport LFA - 3rd December 2020 (Route altitudes amended and Significant Points added)
Manchester - 12th August 2021 (Major changes)
Oxford - 20th May 2021 (Changes to taxiways and holds)
Perranporth - 7th October 2021 (Runway changes)
Sherburn in Elmet - 9th September 2021 (Major changes)
Sleap - 20th May 2021 (Changes to textual information and Gyrocopter circuit added to diagram)
Turweston - 22nd April 2021 (Southern disused track amended to active peri track, correction to text on Noise Abatement chart)
Wycombe Air Park - 17th June 2021 - (Correction to contact details)