Aeroshell Fluid 3 – 1 Litre Bottle
Pooleys stock code: SGE603A
Manufacturer's part number: VAR0000077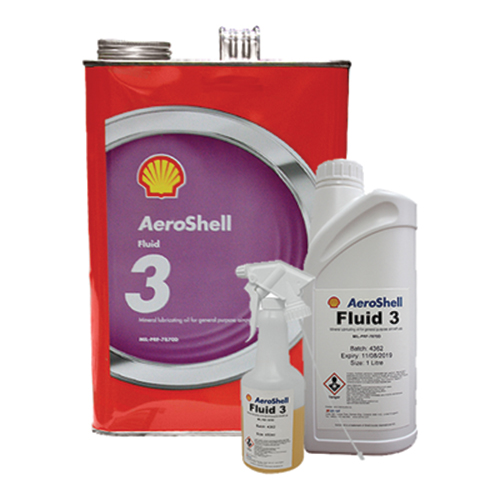 It is inhibited against oxidation and corrosion. AeroShell Fluid 3 is a relatively low viscosity product with good resistance to evaporation. AeroShell Fluid 3 is recommended for general lubrication of aircraft parts that require a light oil, e.g. hinges, pivot joints, shaft joints, linkage pins and bearings, pulleys, cables, camera mechanisms, radio and radar gear and instruments.
AeroShell Fluid 3 is normally applied by means of an oil can or brush. For this reason it is also described as 'an oilcan lubricant'. Operating temperature range of AeroShell Fluid 3 is –54°C to +121°C. For high temperature applications where no provision is made for frequent re-lubrication the synthetic oil, AeroShell Fluid 12, should be used in place of the mineral oil, AeroShell Fluid 3; however in this case care should be taken to ensure that there is no incompatibility between AeroShell Fluid 12 and seals, paints etc. 
Features:
Low viscosity product
Good resistance to evaporation
For general lubrication of aircraft parts
Operating temperature : –54°C to +121°C.
Specifications: DEF STAN 91-47 MIL-PRF-7870E O-142 OM-12
PLEASE NOTE: Not available for guaranteed next day delivery. Please allow 5 working days for delivery.
---
£21.31 £25.57 inc. VAT (20%)*
---
Share this product:
---