VFR Flight Rules France, 9th Edition - Vacher
Pooleys stock code: CVV000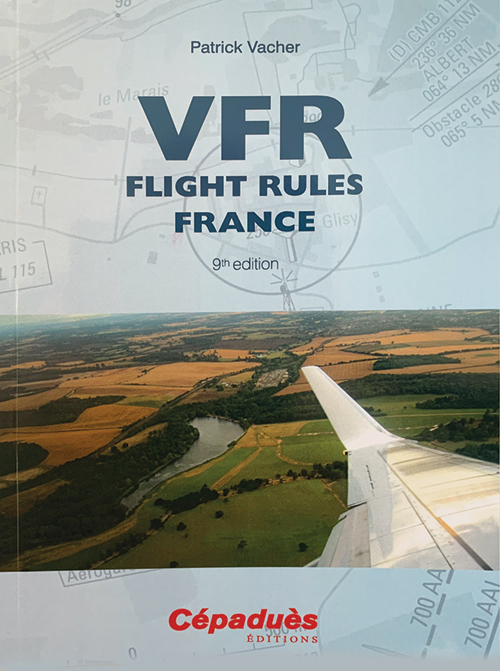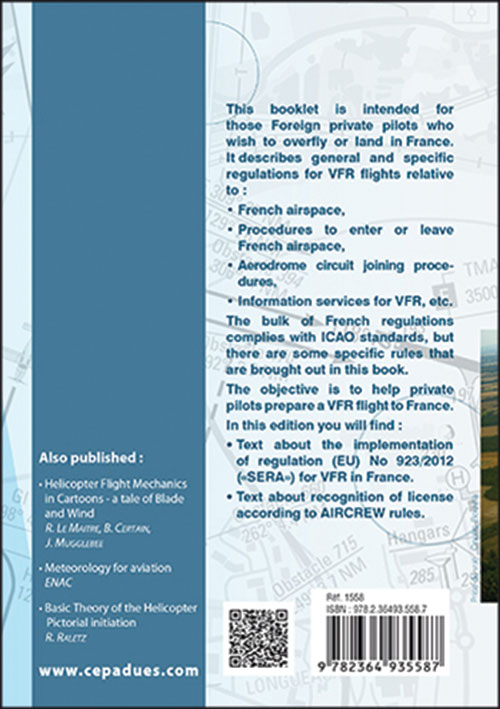 This booklet is intended for those Foreign private pilots who wish to overfly or land in France.

It describes general and specific regulations for VFR flights relative to:
French airspace
Procedures to enter or leave French airspace
Aerodrome circuit joining procedures
Information services for VFR, etc.
The bulk of French regulations complies with ICAO standards, but there are some specific rules that are brought out in this book.

The objective is to help private pilots prepare a VFR flight to France.

In this edition you will find:
Text about the implementation of regulation (EU) No 923/2012 («SERA») for VFR in France
Text about recognition of license according to AIRCREW rules.
INTRODUCTION
Chapter 1: French Airspace
AIRSPACE CLASSIFICATION
FLIGHT INFORMATION UPPER AIRSPACE (UIR)
AIRSPACE RESTRICTIONS AND DANGER AREAS
FRENCH AVIATION TERRITORIAL ORGANISATION
AERONAUTICAL INFORMATION
Class E, F & G
Chapter 2: Police Facilities
CENTRAL DIRECTORY FOR BORDER POLICE
GENDARMERIE AERIAL TRANSPORT
INTERCEPTION PROCEDURES
Chapter 3: Rules of the Air
DEFINITIONS
GENERAL RULES
PRIORITY
MINIMUM OVERFLIGHT HEIGHTS
VFR FLIGHT PLANS
FUEL RESERVE
Chapter 4: VFR Rules
VFR FLIGHT
Weather minima VMC
VFR IN CONTROLLED AIRSPACE
VFR CRUISING LEVELS
Very Low Altitude Airforce Network Activity(RTBA)
AIRCRAFT INSTRUMENTS, EQUIPMENT
Chapter 5: Air Traffic Services
RADAR
FLIGHT INFORMATION SERVICE
AERODROME
GENERAL PROVISIONS FOR AERODROME
RADIOCOMMUNICATIONS
Chapter 6: Specific Procedures
PROCEDURE TO CROSS THE BORDERS OF METROPOLITAN FRANCE
VFR DIVERSION AND TRANSIT ROUTES WITHIN RESTRICTED OR DANGER AREAS WHEN OPERATING UNDER VFR (DAY)
NIGHT VFR FLIGHT RULES
FLIGHT OVER THE SEA (MARITIME)
Chapter 7: Meteorology
Meteorological assistance to the VFR Flight.
Chapter 8: Conformity of Licences
Recognition of national aircraft pilot license in accordance with JAR FCL by a Member State of the EEE
An IMC rating can be added into a national UK PPL, but cannot be used in EASA aircraft after 8 April 2014.
ISBN 9782364938731
---
£12.50 £12.50 inc. VAT (Exempt)*
---
Share this product:
---
Related products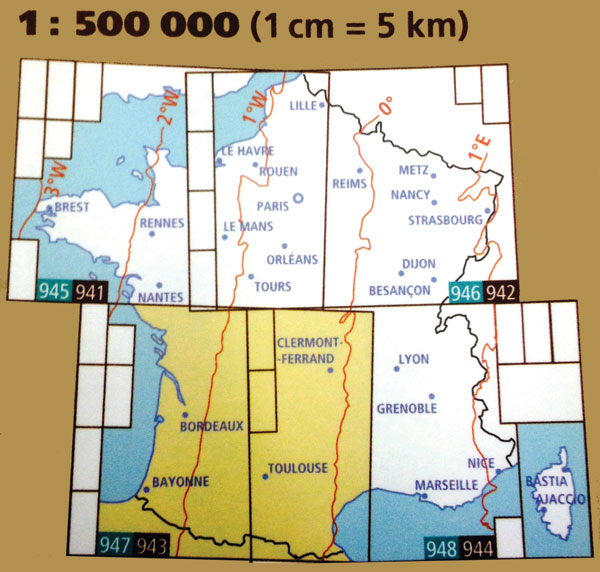 2023 French ICAO Charts - Laminated or Paper 1:500,000
£24.95
£24.95 inc. VAT (Exempt)
View Product