Avionics Troubleshooting and Repair - Maher (5D)
Pooleys stock code: MGW015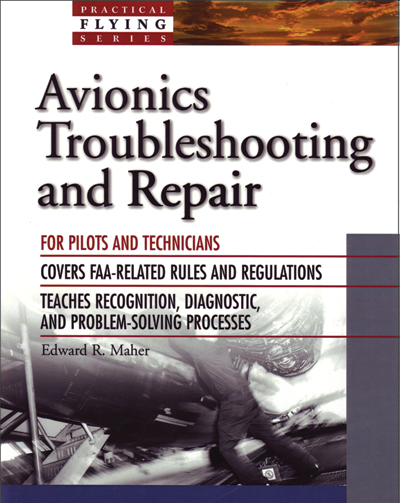 FIX THE MOST COMMON PROBLEMS IN AVIONICS
Keep planes flying smoothly and safely with the best guide ever written on caring for avionic components. Avionics Troubleshooting and Repair is packed with assembly, installation, and troubleshooting techniques for use by both pilots and technicians. Written by avionics specialist Edward R. Maher, this crystal-clear guide brings you:
Coverage of audio noise-proofing, communications systems, GPS, sheet metal, bonding and adhesives, Stormscope, ELT's, lighting systems, instrument calibration, gyros, and more.
Clear answers on what pilots can do (and when you need a certified mechanic).
Problem-identification, diagnostic, and repair procedures you'll find nowhere else.
Related FAA rules and regulations, plus industry standards.
Comprehensive information on equipment and needed tools.
CONTENTS:
Chapter 1: Rules to Fly By.
Chapter 2: Avionics Shop Requirements.
Chapter 3: Avionics Decisions.
Chapter 4: Avionics Installation and Repair.
Chapter 5: Microphones, Headsets, Intercoms, and Speakers.
Chapter 6: Audio Systems.
Chapter 7: Antennas.
Chapter 8: Communication Receivers/Transmitters.
Chapter 9: Navigation Systems.
Chapter 10: Marker Beacons.
Chapter 11: Automatic Direction Finder (ADF).
Chapter 12: Distance Measuring Equipment (DME).
Chapter 13: LORAN Systems.
Chapter 14: Global Positioning System (GPS).
Chapter 15: Autopilot Systems.
Chapter 16: Transponders and Collision Avoidance Systems.
Chapter 17: Emergency Locator Transmitter (ELT).
Chapter 18: Radar Systems.
Chapter 19: Thunderstorm Detection Systems.
Chapter 20: Compass.
Chapter 21: Gyroscopic Instruments.
Chapter 22: Radio (Radar) Altimeters.
ISBN 9780071364959
---
£45.99 £45.99 inc. VAT (Exempt)*
---
Share this product:
---