CFR547 Air Million Edition 2022 – Iberia (Spain/Portugal)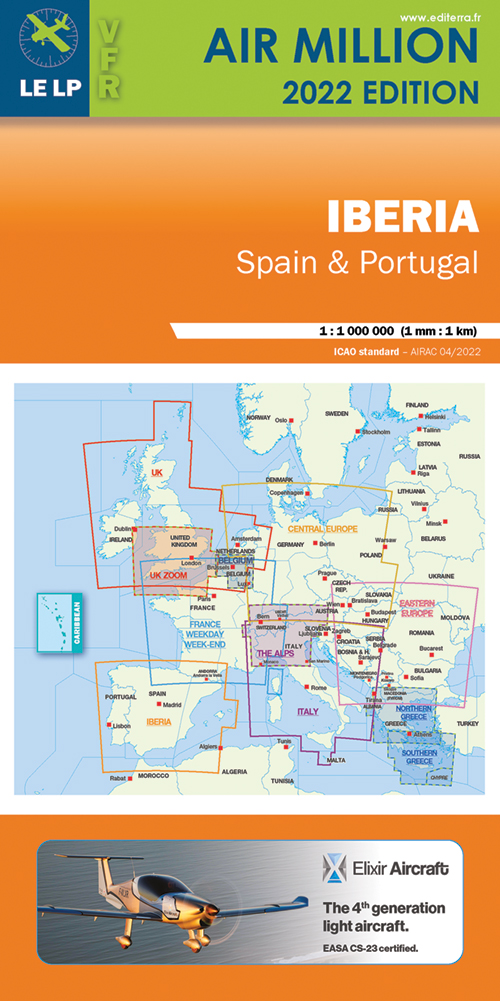 Product description:
Push back the borders and cross the Pyrenees with AIRMILLION Iberia 2021!
Quickly discover this map which covers Spain and Portugal on a double-sided sheet at 1: 1,000,000. All the information necessary for daytime VFR flight is included:
airspace from SFC to FL180;
all controlled areas from class A to E
all restricted areas (restricted, dangerous, prohibited, military training areas, etc.)
more than 200 aerodromes, AIP, private or ULM sites
radio navigation resources (VOR, VORDME and NDB)
obstacles to navigation (> 400 ft)
reporting points and VFR routes
LAST UPDATE AIP: AIRAC OF 21/04/2022
Product dimensions: 12 cm x 25 cm (folded format), 130 x 50 cm (open format).
---
£17.95 £17.95 inc. VAT (Exempt)*
Approximate currency conversions (for reference only)
€21,61 €21,61 including VAT (Exempt)*
*VAT is not charged for deliveries outside the EU
---