BTG176 Jet Engines - Hunecke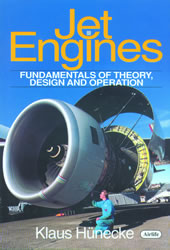 Product description:
Jet Engines covers turbojet, turboprop, and turbofan designs and is applicable to civilian and military usage. It commences with an overview of the main design types and fundamentals and then looks accurately into air intakes, compressors, turbines, and exhaust systems. Thrust augmentation and engine system follow with chapters on environmental considerations and airframe integration concluding the work.
---
£20.00 £20.00 inc. VAT (Exempt)*
Approximate currency conversions (for reference only)
€24,08 €24,08 including VAT (Exempt)*
*VAT is not charged for deliveries outside the EU
---