BTA015 An Introduction to Air Rallying – Fenton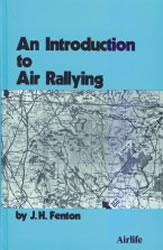 Product description:
This book provides a comprehensive guide to the art of Air Rallying. Written to help competitors improve their performance and give novices an insight into the techniques involved.
Covering; What is a Rally? Regulations, Equipment, the best Aircraft Navigation, Crew Selection, Timings, Spot Landings and Photography etc.
---
£6.00 £6.00 inc. VAT (Exempt)*
Approximate currency conversions (for reference only)
€7,22 €7,22 including VAT (Exempt)*
*VAT is not charged for deliveries outside the EU
---