RAM-HOL-UN8B Holder. Universal X-Grip II® for 7 inch devices with or without a case or skin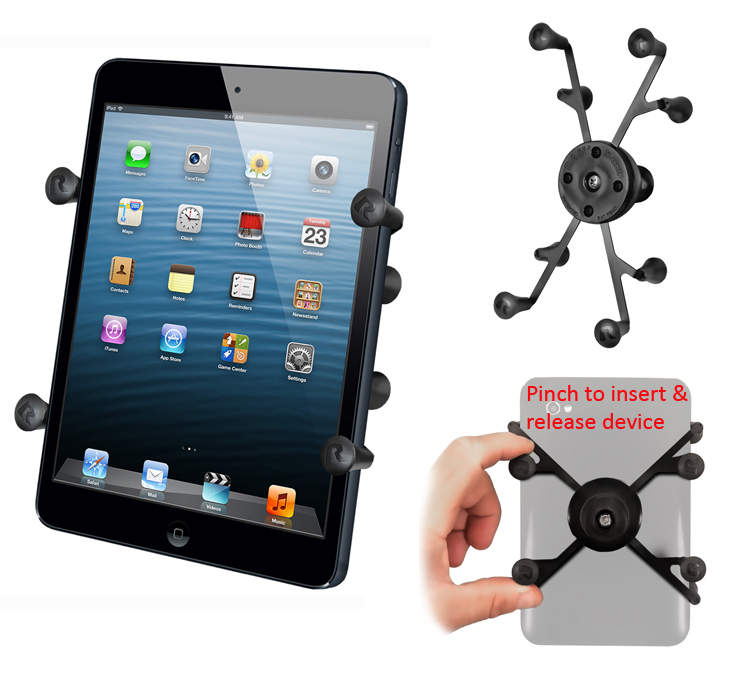 Product description:
The RAM X-Grip® II has a clean and clever four leg design that sports great holding power without hiding your tablet behind foam pads and plastic. The perfect compliment to the modern sleek design of tablets, the RAM X-Grip® II is the tablet holder evolved. Compatible and interchangeable with a wide range of popular RAM Mounting products, this elegant universal holder is ready to compliment your tablet.
The X-Grip® includes a device tether recommended for outdoor applications. The holder is compatible with handheld devices that will fit the dimensions listed below. It is important to verify the dimensions of your handheld device with a case/sleeve/skin when determining the overall size.

The RAM-HOL-UN8B consists of a spring loaded holder and arm connecting ball. Easy access grip knobs are located on the back of the holder for quick release of your tablet. The RAM-HOL-UN8B expands and contracts for perfect fit of most 7" tablets.

Compatible Devices:
Apple iPad mini
Apple iPad mini with Lifeproof case
Amazon Kindle
Amazon Kindle Fire
Amazon Kindle Fire HD
Archos 7
Asus EEE Pad Memo
Barnes & Noble NOOKcolor
BlackBerry PlayBook
Dell Streak 7
HTC Flyer
Panasonic Toughpad™ JT-B1
Samsung Galaxy Note 8.0
Samsung Galaxy Tab 8"
Samsung Galaxy Tab (7" version)
Samsung Galaxy Tab 7.0 Plus
Samsung Galaxy Tab 2 7.0
All devices that maintain the dimensions below

Holder Dimensions:
Minimum Width = 57.15mm
(Devices 57.15mm in width must be a minimum of 177.8mm in height to fit)
Maximum Width = 147mm
Depth = 22.22mm

Features:
1. Spring loaded holder expands and contracts for perfect fit of your tablet
2. Rubber coated tips will hold your tablet firmly
3. Versatility of holder allows for attachment to many RAM-to-RAM ball and 1" socket mounts
4. Socket technology allows for multiple adjustment angles and articulation of your tablet
5. Easy access grip knobs, located on the back of the holder for quick release of your tablet

Material:
High Strength Composite with Rubber Tips
---
£38.33 £46.00 inc. VAT (20%)*
---
Share this product:
---