DP-1 Diversion Plotter
Pooleys stock code: NRN090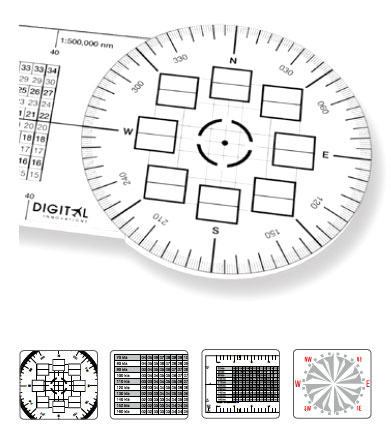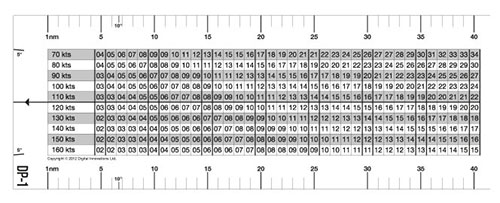 The DP-1 is aimed at those undertaking a Private Pilot Licence (PPL) or Commercial Pilot Licence (CPL) course. The DP-1 has been designed by qualified flight instructors to assist students during the planning and diversion segments of the syllabus. Taking away the mental calculations during a time when the students workloads are at the limits, the DP-1 is the answer to diversion worries.
DESIGN
The DP-1 is manufactured using durable and flexible plastic allowing, the ruler to mould with the contours of a chart when overlaid on uneven surfaces.
WINDSTAR
The unique feature of the DP-1 is the Windstar. During the flight planning stage the Windstar figures are plotted. For ease, we have produced an free online version to assist. Click here. alternatively, a native mobile application is available on both apple and android platforms. Once downloaded, no internet connection is required. Please note that other methods are available that will provide the same results.
The Windstar consists of eight input boxes, each representing a cardinal point. (N,NE,E,SE,S,SW,W,NW). Each box is sub-divided into 2 containers. One container is used to insert the calculated ground speed and the second for correction angle. These figures are based on the planned wind speed and direction along with the planned cruising speed (TAS) using the figures generated with the application above.
1:500,000 SCALE
The DP-1 also combines a standard 1,500:000 nm scale. The scale is strictly for 1/2 mill charts designed to coincide with PPL and CPL training. This scale can be used during the pre-planning stage or airborne when the need arises to quickly obtain a distance between two points. Armed with information, and the information provided on the windstar the time to diversion point cant be obtained.
SPEED / DISTANCE / TIME
Below the 1,500:000 scale is a Speed/Distance/Time. The table provides speeds from 70kts to 160kts up to a distance of 40nm. The speeds and distance are usually sufficient for the training aircraft and diversion leg of the skills test. The table is used in conjunction with the Windstar and allows the pilot to quickly provide an accurate ETA as well as required times to chosen checkpoints en-route. Anything outside of this range can be easily interpolated.
5 and 10 DEGREE MARKERS
5 and 10 degree markers on the rule allow the pilot during pre-flight planning to easily mark out 5 or 10 degree fan lines. This method is a widely used technique for training students are greatly assists students corrections when off track.
---
£12.92 £15.50 inc. VAT (20%)*
---
Share this product:
---
Related products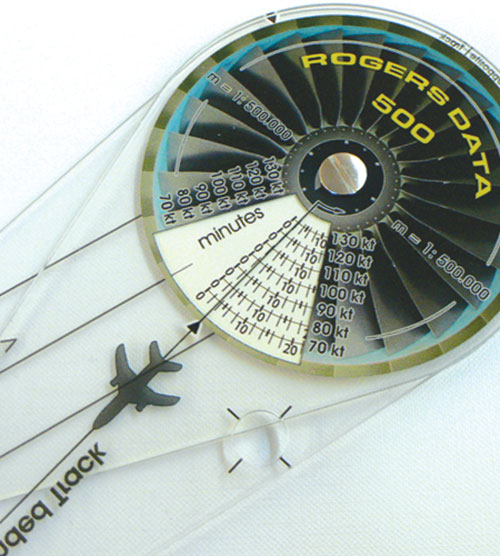 Navigation Circular Plotter 1:500,000 - Rogersdata
£24.96
£29.95 inc. VAT (20%)
View Product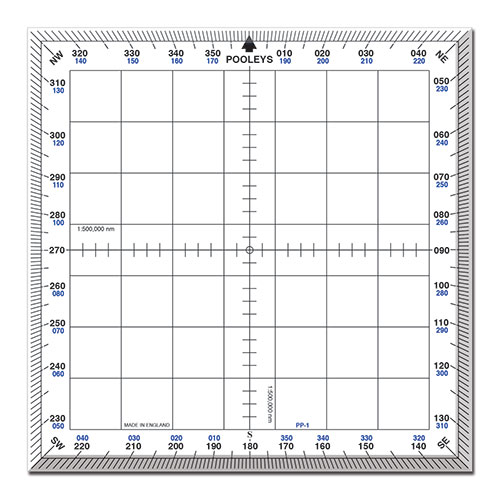 PP-1 Square Protractor
£6.66
£7.99 inc. VAT (20%)
View Product
RNP-1
£7.92
£9.50 inc. VAT (20%)
View Product