Cabin Disinfectant 750ml - Aerosense
Pooleys stock code: SGE205

Cabin Disinfectant is a disinfecting agent for pre-cleaned, hard surfaces in the aircraft. The non-corrosive formula is safe for use on metal (aluminium), plastic, (un)painted, rubber, leather, vinyl and Tedlar® surfaces.
CERTIFICATION
AMS 1452B
Boeing D6-7127
National Stock Number (NSN):
6840-13-122-7547
APPLICATION
Dilution ratio for liquid concentrate: 5%. Simply spray the diluted or ready-to-use product on the washable surface and allow 5 minutes of contact time, then wipe clean. No rinsing required.
GENERAL INFO
Compatible with our Cabin Cleaner.
---
£16.63 £19.96 inc. VAT (20%)*
---
Share this product:
---
Related products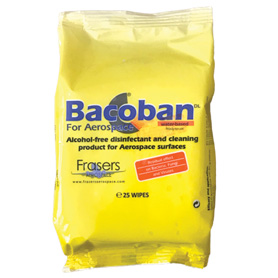 Bacoban for Aerospace - 5 Packs x 50 Wipes
£25.50
£30.60 inc. VAT (20%)
View Product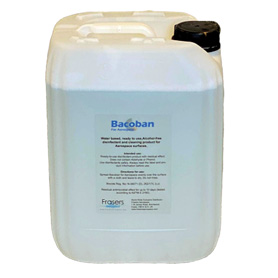 Bacoban for Aerospace 3% Fogging Type – 10 Litre Container
£129.95
£155.94 inc. VAT (20%)
View Product

Cabin Cleaner 750ml - Aerosense
£13.29
£15.95 inc. VAT (20%)
View Product

Cabin Cleaner - Aerosense
£16.63
£19.96 inc. VAT (20%)
View Product