AeroShell Fluid 2XN Corrosion Preventative *MIL-C-6529 Type
Pooleys stock code: SGE299/299A
Manufacturer's part number: ASF2XN5USG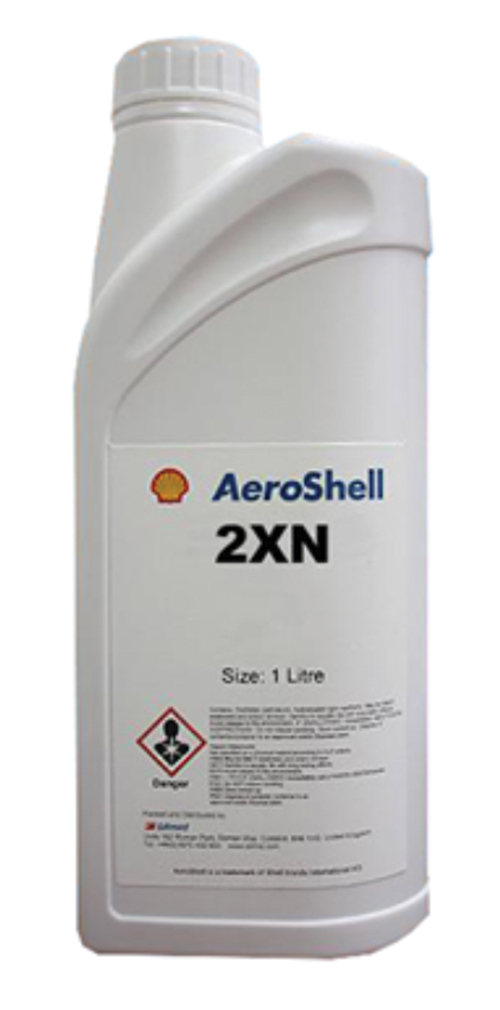 AeroShell Fluid 2XN is primarily used as an ingredient of AeroShell Fluid 2F, but can be used undiluted to provide additional protection for piston engines after run-out on AeroShell Fluid 2F, by spraying exhaust ports, rocker arms, accessories.
For aircraft gas turbine engines a mixture of one part of AeroShell Fluid 2XN to three parts of AeroShell Turbine Oil 2 is required. Detailed instructions for inhibiting turbines are given in specification MIL-E-5607F.
Aeroshell Fluid 2XN is a corrosion preservative concentrate for protecting infrequently used engines. It uses an ashless anti-corrosion additive package and highly refined mineral based oils to protect internal engine surfaces from the effects of humidity. It is designed to neutralise the acidic by products of oil oxidation and combustion.
Features:
Can be used neat to long term storage
Can be sprayed undiluted on piston engine exhaust ports
Uses an ashless anti-corrosion additive package
Has highly refined mineral based oils
Details:
AeroShell Fluid 2XN
Corrosion Preventative
1lt Bottle
*MIL-C-6529 Type I
PLEASE NOTE: If you wish to order a 5USG Pail, please all up to 5 working days for delivery. We cannot ship this item on a guaranteed next day delivery.
---
Quantity:
From £35.50 £42.60 inc. VAT (20%)*
---
Share this product:
---