Aeroshell Oil Advance VSX 2T
Pooleys stock code: SGE306/307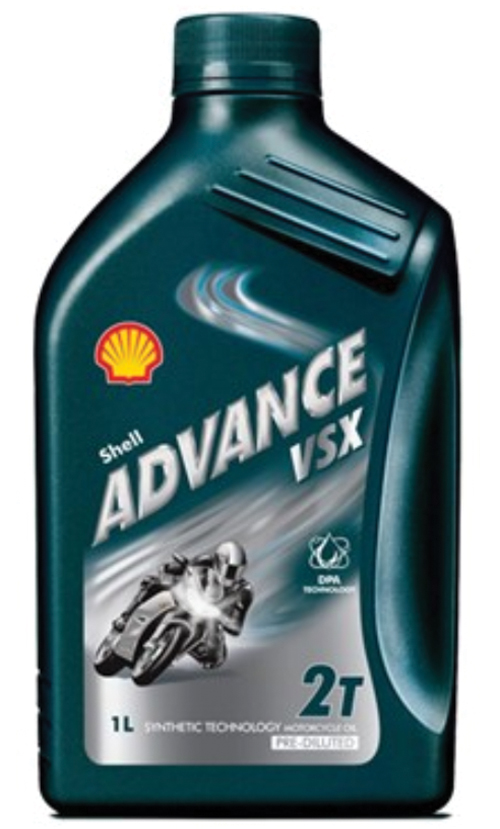 Please Note:

Due to shipping restrictions this product can only be supplied by courier to the UK, Ireland & Mainland Europe.
Please allow 5 working days for delivery.

Synthetic technology oil with DPA Technology
Provides piston scuffing protection and reduces smoke. 
Shell Advance VSX 2, semi-synthetic, 2-stroke engine oil
Do you have a high-powered, 2-stroke engine?
Then you need an oil that's been designed to deliver superior performance, protection, cleanliness and low smoke.
Shell Advance VSX 2 is suitable for all oil-injection and premix systems. With Dynamic Performance Additive (DPA) Technology, it helps keep your engine clean and protected for longer.
It also helps give clean combustion while minimising exhaust smoke, helping to stop your exhaust system from blocking and prolonging your engine life with no power loss.
What's more, with its thick lubricant film strength, Shell Advance VSX 2 helps provide excellent protection against metal-to-metal wear.
A unique, semi-synthetic lubricant, Shell Advance VSX 2 oil exceeds international specifications and manufacturers' requirements.
Formulation meets: JASO FC, ISO-L-EGC, API TC; and JASO FD, ISO-L-EGD, API TC.
PLEASE NOTE: IF YOU WOULD LIKE THIS SHIPPED OUTSIDE THE UK MAINLAND. PLEASE DO NOT COMPLETE THIS ORDER. YOU MUST CONTACT US FOR SHIPPING COSTS ON +44(0)1234 750677.
---
Quantity:
From £8.04 £9.65 inc. VAT (20%)*
---
Share this product:
---