EASA PART 66 – MODULE 12: HELICOPTER AERODYNAMICS, STRUCTURES AND SYSTEMS – QUESTION BANK
Pooleys stock code: AIN062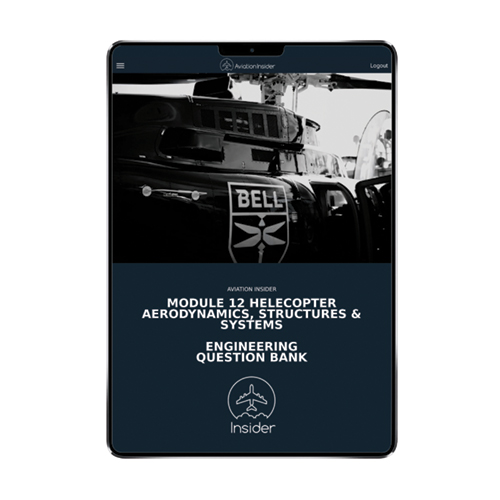 £13.99 / month
This extensive module builds upon the knowledge from earlier modules and provides explanations of aerodynamics and all the main systems applicable to rotary wing aircraft: airframe, flight control systems, blade tracking & vibration analysis, transmission (gear boxes, clutches etc), air conditioning, instruments, electrical power, equipment & furnishings, fire protection, fuel systems, hydraulic power, ice & rain protection, landing gear, lights, pneumatics, integrated modular avionics (IMA), onboard maintenance systems and information systems.
The content is applicable for those studying towards A3, A4, B1.3 and B1.4 helicopter licences.
12.1 Theory of Flight – Rotary Wing Aerodynamics
12.2 Flight Control Systems
12.3 Blade Tracking and Vibration Analysis
12.4 Transmissions
12.5 Airframe Structures
12.6 Air Conditioning (ATA 21)
12.7 Instruments/Avionic Systems
12.8 Electrical Power (ATA 24)
12.9 Equipment and Furnishings (ATA 25)
12.10 Fire Protection (ATA 26)
12.11 Fuel Systems (ATA 28)
12.12 Hydraulic Power (ATA 29)
12.13 Ice and Rain Protection (ATA 30)
12.14 Landing Gear (ATA 32)
12.15 Lights (ATA 33)
12.16 Pneumatic/Vacuum (ATA 36)
You will have access to it immediately in your account. This product is perfect for those who want to learn the questions and answers.
Product Disclaimer: All information provided has been fact-checked but variants can be different depending on airline or training organisation so please check with your organisation's manuals. Aviation Insider assumes no responsibility for your exam/ test or interview result and this material should be used as an aid to your learning and preparation.
*Please allow 24-48 hours for access notification for this product.
---
£13.99 £13.99 inc. VAT (Exempt)*
---
Share this product:
---