Blind Spot Aviation Ruler
Pooleys stock code: NBS010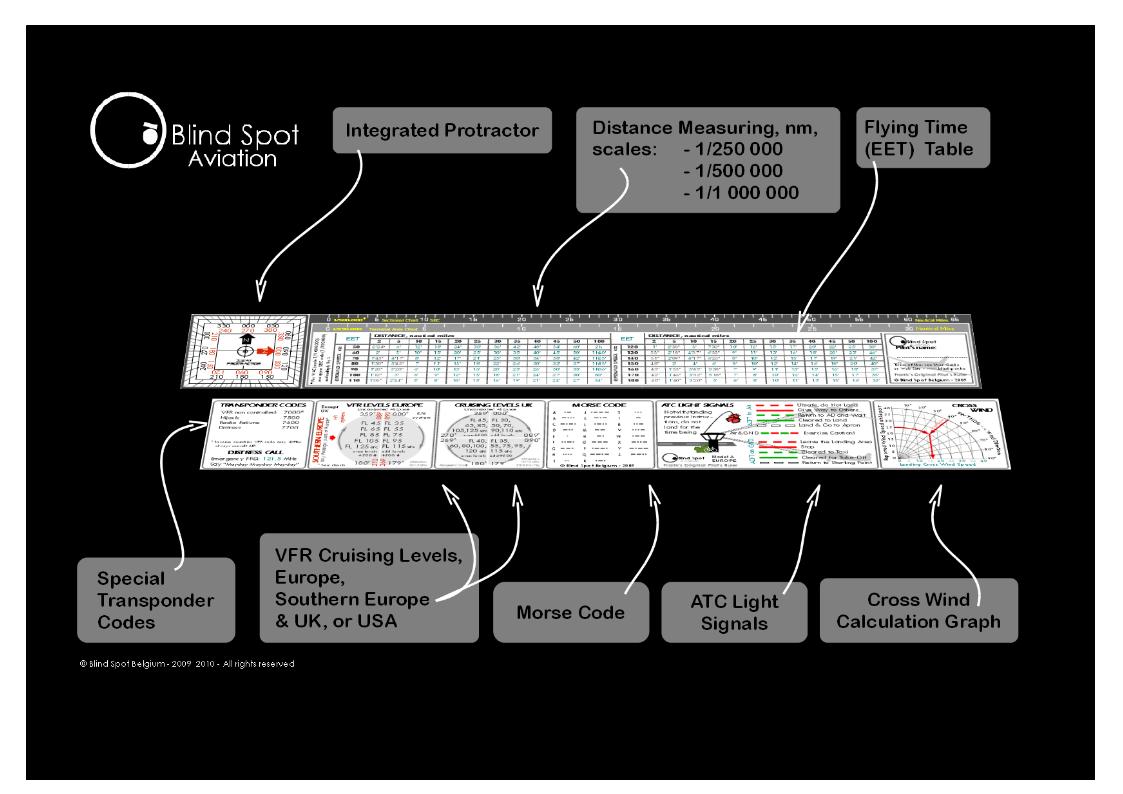 BLIND SPOT's PILOT's RULER – ALL-IN-ONE!
The SMART ruler for VFR pilots:
all functions on one instrument, 
fast read-out, 
simple in use.
This ruler has been designed to offer pilots maximum support in the simplest way, during flight preparation and in flight.
It enables pilots to solve navigation problems and provides useful information both at a glance, in only a few seconds, with only one instrument.
 

FAST read out and SIMPLE in use! Pilots can now fly safer and more relaxed and concentrate more on flying, less on calculating. 

Pilot magazine UK wrote: "There are pilot rulers and there is The Pilot's Ruler

"

 

 

 
FEATURING

TECHNICAL PROPERTIES

Intergrated Protractor

VFR Cruising Levels Europe/UK/USA *

ATC Light Signals

Special Transponder Codes Europe/USA *

Morse Code

Emergency Frequency

Landing Cross Wind Table

Distance Ruler, for chart scale 1/250 000

Distance Ruler, for chart scale 1/500 000

Easy convert to chart scale 1/1 000 000

Flying Time (EET) Table, for Ground Speeds 

from 50 up to 180 knots

Calculation of Ground Speed

Calculation of Head- or Tailwind component.

* depending on region of purchase (EU or USA). 

DELIVERY - 3 types

A. Ruler EU + user guide in English
B. Règlette EU, avec guide de l'utilsateur en Français
C. Ruler USA + user guide in English

Colour, for good readability

Flexible material to make good contact with the aeronautical chart

Soft, no risk to scratch the wind screen when stowed on the dashboard

Unbreakable

No batteries

No sliding parts

No keyboard input

No sunlight reflection.

 

 

 

 

 

 

 
---
£17.92 £21.50 inc. VAT (20%)*
---
Share this product:
---