Intelligent Automatic Battery Charger Accu-smart 12V-7A
Pooleys stock code: CET845127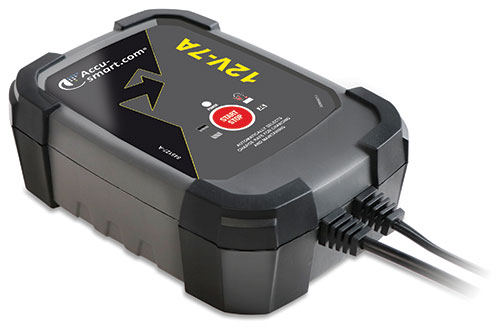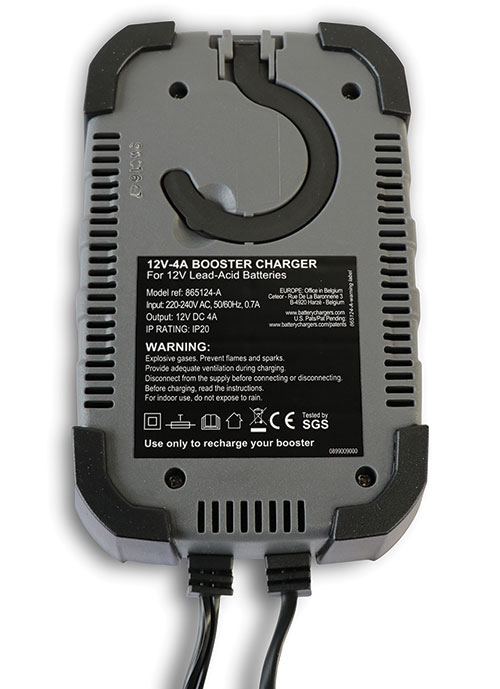 Accu-Smart® is the essential tool for aviation professionals and private users, as it allows recharging all types of lead-acid batteries. Once they are charged, the Accu-Smart charger can be left connected to the batteries to maintain them at optimal capacity. This increases the battery life.

Accu-Smart® : The advantages of the ultimate technology
LIGHT, COMPACT AND POWERFUL  Accu-Smart®, electronic "switched-mode" battery charger, is lighter, more compact and more powerful than old chargers that use transformers with "linear-mode technology".
 
EASY TO USE  There's no need to select the correct charging mode as the optimal charge path is chosen automatically, without external intervention, leaving you secure in the knowledge that battery health will be maintained at all times. You can therefore leave it permanently connected to the battery.


 

TOTAL SECURITY DURING RECHARGE  The Accu-Smart® charger restarts if there is a power cut and gives total protection against:   Short circuits, inversion of polarity, peaks of voltage (AC or DC), over-heating & spikes.
They are also perfectly safe for vehicle electronics; so it isn't even necessary to disconnect the battery from the vehicle before charging it.


 

ERGONOMIC DESIGN  The modern design of Accu-Smart® has:  Fixing holes, allowing for easy hanging on the wall, in the workshop.  All power cables are located on the device to enable easier storage and  protection from water and dust.
STEPS FOR AN OPTIMAL RECHARGE
DIAGNOSE & RECONDITION:

 

The charger analyses the battery automatically and checks its voltage. Slightly sulphated batteries start with a pulse charge to recondition the battery.
CHARGING:  During this recharge step, the voltage supplied to the battery increases delivering a medium to high charging current until 80% of the recharge is reached.
ABSORPTION:  During the absorption step, the charger supplies a constant voltage to complete recharge of the battery.
MAINTENANCE:  Once the battery is fully charged, the charging voltage decreases to a maintenance voltage. This keeps the battery at full charge and ready to use.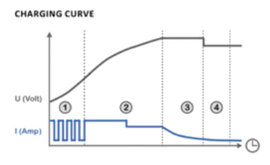 ---
£78.50 £94.20 inc. VAT (20%)*
---
Share this product:
---
Related products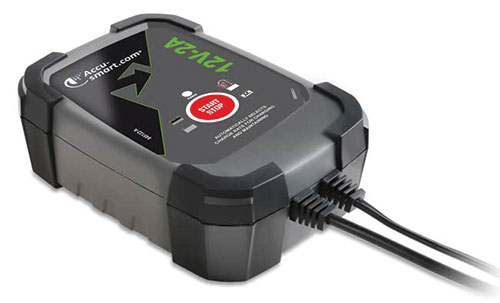 Intelligent Automatic Battery Charger Accu-smart 12V-2A
£47.50
£57.00 inc. VAT (20%)
View Product