GNS3000 BT GPS Receiver with Bluetooth
Pooleys stock code: NGP905
Manufacturer's part number: 4037735100008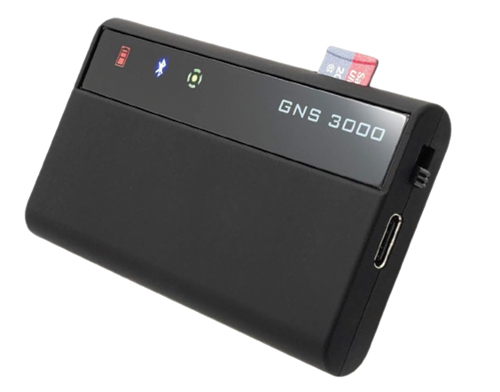 The GNS3000 is a GPS/GALILEO/GLONASS receiver with Bluetooth technology. The powerful 99-channel GNSS receiver allows simultaneous reception of GPS, GALILEO and GLONASS signals. The GNS 3000 supports the SBAS System for accuracy improvement, all worldwide standards (WAAS, EGNOS, QZSS, MSAS, GAGAN) are supported. Due to its state of the art GNSS and Bluetooth technology the GNS 3000 supplies Bluetooth enabled iPad®, iPhone® or Android™ devices as well as smartphones, PDAs and laptops, with highly accurate position information.
The GNS3000 has a extra large patch antenna for generating extraordinary reception in regions where other GPS devices fail.
With the new SD Card slot it is possible to reliably log GPS positions for up to 7 years on a 32GB memory card. The state of the art 99 channel GPS chip is able to receive GPS, Glonass and Galileo positioning data. This guarantee to receive GPS position data also in challenging environments like urban canyons, mountains or in forest.
The outstanding battery operation time is up to 10 hours. The GNS3000 is Apple certified with fully compatibility for Apple devices. New features can be upgraded via Bluetooth connection.
You can connect up to five Apple, Android devices or Notebooks simultaneously via Bluetooth.
• 99 Channels
• Logger Function
• SD Card Support
• High Sensitivity
• Up to 10 Hours Operation Time
Dimensions: 81 x 45 x 11mm
---
£104.16 £124.99 inc. VAT (20%)*
---
Share this product:
---