Rust Remover for Pilots - Irv Lee
Pooleys stock code: VTV050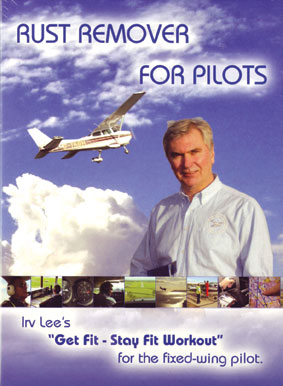 Rust Remover for Pilots
But if you haven't flown for a few week and...
Flight planning is a bit muddled.
You're hesitant on the pre-flight checks.
The aircraft gets ahead of you.
ATC seems to talk too fast.
Your circuits are inaccurate.
Your landings are safe but a bit rough..
You're "Rusty" and Irv Lee's RUST REMOVER FOR PILOTS will help scrape it off!
It is not a flight training programme, we know you can fly already. This dvd covers those faults in VFR flying and pre-flight that he regularly finds in all 'rusty' pilots. It allows you to re-visit all those situations before you go near an aircraft and helps you with a flying work-out routine to get you back on top of it.
Included in the workout:
Pilot, are you fit to fly?
Pre-flight navigation planning.
Simple GPS to aid visual navigation.
Aircraft serviceability.
Pre-flight checks and fuelling
Use of mnemonic checklists.
Take off performance and climb out.
Trimming for the climb and cruise.
Standard and steep turns.
Map reading tips to avoid controlled airspace infringements.
The overhead join and circuit.
Setting up the approach to land.
The correct way to touch down.
The aborted landing and go-around.
The glide approach without power.
---
£21.66 £25.99 inc. VAT (20%)*
---
Share this product:
---
Related products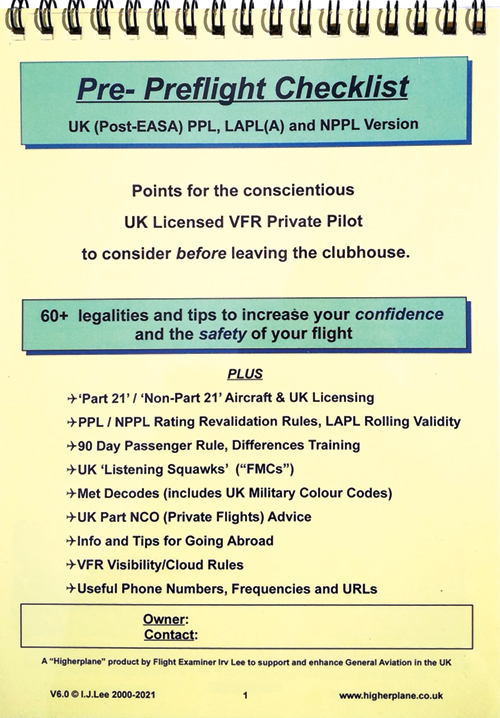 Pre-Preflight Checklist, Irv Lee – UK (Post-EASA) Version for PPL, LAPL (A) & NPPL
£15.00
£15.00 inc. VAT (Exempt)
View Product