Myro and the Jet Fighter Audio Book
Pooleys stock code: BMY002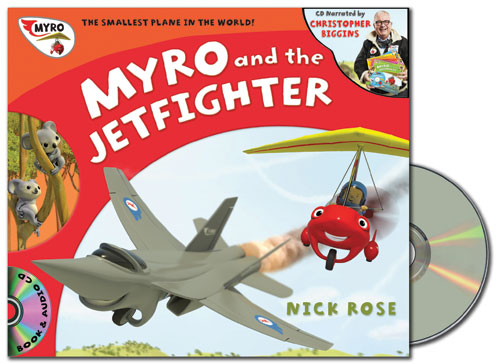 In 'Myro and the Jet Fighter', the last story book of this first series, Myro is quick to swallow his pride when a mocking supersonic plane crashes in the Australian Bush.

The Smallest Plane in the World races to the rescue and soon becomes the toast of the Jet Fighters back at the airbase.
MYRO AND THE JET FIGHTER – Book 6: Brace yourselves! It's a sonic BOOOOOM!  Jimo the jet fighter breaks the sound barrier and Air Force regulations to tease the Smallest Plane in the World about his size.

But the joke's on the super-cool jet when Myro has to rescue the Air Force hot-shot and his pilot from an embarrassing crash in the Australian Bush.

Can Myro zoom in before the pilot becomes fish food?  Will the supersonic plane become a friend or an enemy?

Myro soon finds out, after a day of adventure and a night in the air base!
INSIDE: 'Myro and the Jet Fighter'
Whilst Myro loves being the smallest plane in the world, he doesn't like being teased about his size and being called a flying lawnmower! And when Jimo the jet fighter adds insult to injury by scaring Myro out of his own airspace, Myro gets really fed up.
 
Myro puts his pride to one side, though, when Jimo sends out a MAYDAY call. Myro zooms to the rescue and with his eagle eyes he soon spots Jimo's pilot suspended by his parachute over a ravine, and finds the bragging jet fighter crashed in the thick Australian bush.
 
Chili the Chinook takes the embarrassed Jimo back to the airbase where they soon catch up with Myro, now the supersonic jet fighters' hero of the day.
---
Audio Book Christopher Biggins narrates Myro's adventures in the fun packed hour long CDs!
---
£7.99 £7.99 inc. VAT (Exempt)*
---
Share this product:
---
Related products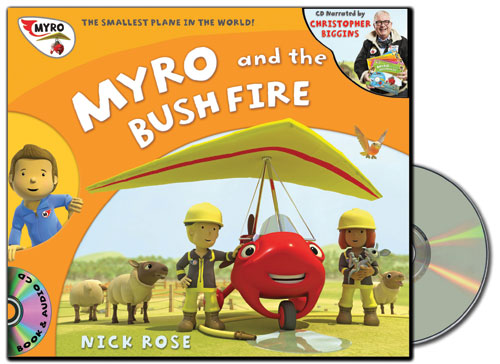 Myro and the Bushfire Audio Book
£7.99
£7.99 inc. VAT (Exempt)
View Product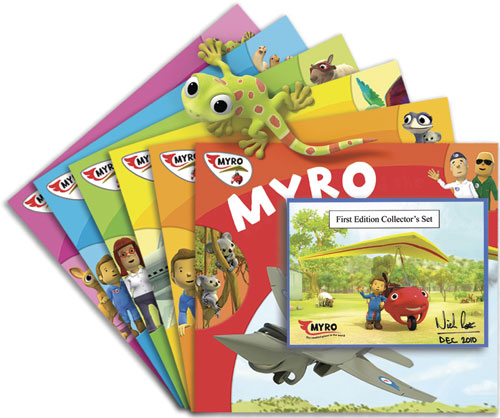 Full Set of Myro Books x 6 - Nick Rose
£39.99
£39.99 inc. VAT (Exempt)
View Product