Holder for multiple devices including phones, whilst in a case, skin or sleeve
Pooleys stock code: RAM-HOL-PD3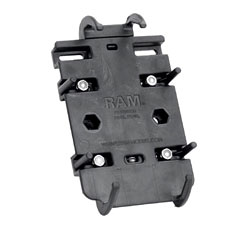 This holder is designed for multiple devices including the following:
DELL - AXIM X3, AXIM X30, AXIM X50, AXIM X50V, AXIM X51 & AXIM X51V.  
HP - IPAQ 200, 210, 211, 212 & 214.  IPAQ H6300 H6315, H6320, H6325, HW6510, HW6515, HX2000, HX2100, HX2110, HX2400, HX2415, HX2490, HX2700, HX2715, HX2750, HX2755, HX2775, HX4700, HX4705, RX3115, RX3715, RX5915, RX5935, RZ1700 & RZ1710.   
PALM III, M100, M105, M125, M130, M500, M505, M515, T/X, TUNGSTEN, V, VX, ZIRE & ZIRE 21.  
TOSHIBA - E300, E310, E330, E350, E355, E740, E750, E755 & E800.
Clamping Dimensions:
Height Range: 121mm - 159mm
Width Range: 57mm - 82mm
Depth Max: 19mm

Material:
High Strength Composite

Note: The holder includes a set of two nuts and bolts to connect to any of the RAM compatible components. 
PRICE IS FOR HOLDER ONLY. REQUIRES DIAMOND BASE ACCESSORY (RAM-B-238) - SEE RELATED PRODUCTS BELOW
The following example shows the simple process of attaching a device holder for an iPhone to a u-bolt base kit for use on railing or bars.
---
£18.33 £22.00 inc. VAT (20%)*
---
Share this product:
---
Related products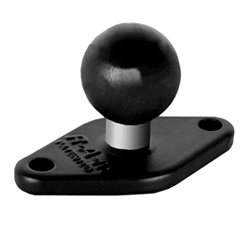 Diamond plate Accessory with connecting ball (ACC)
£8.33
£10.00 inc. VAT (20%)
View Product