Holder Tab-Tite Tablet for iPad 9.7 & more
Pooleys stock code: RAM-HOL-TAB6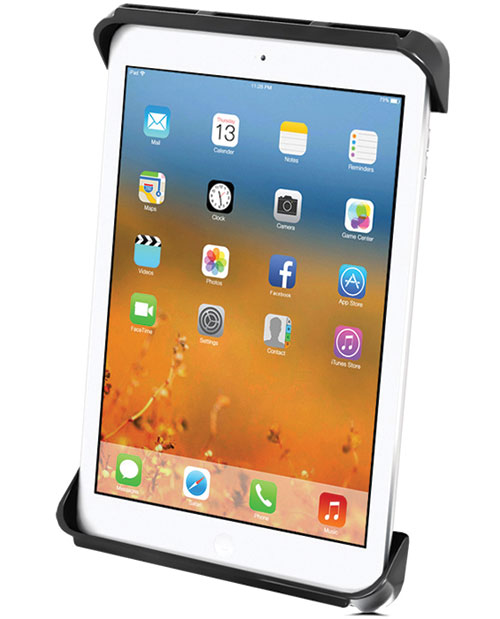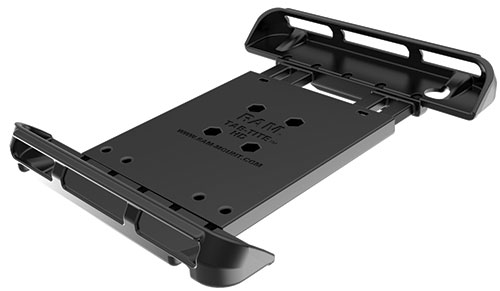 Get the most out of your tablet with the RAM Tab-Tite™ spring loaded, quick release cradle. With interchangeable cup ends, you can fit the cradle to your tablet for a near custom fit. This spring loaded design makes it easy to load and unload your tablet, along with keeping it secure while on the go. Cup ends are designed to optimise the functionality of your tablet, allowing access to audio jacks, usb, power, and other ports, your tablet can be used just as it was intended. Perfect for stationary or on the go applications, this new RAM product is just what you need to get the most out of your tablet. The included back plate is interchangeable with various size support cups, making it compatible with numerous tablet models. When purchasing a new tablet, new detachable support cups are the only components needed for purchase. Included is a set of four nuts and bolts to connect the cradle to any RAM components or mounts that contain the universal AMPs hole pattern. 

Cradle Dimensions:
Height: 8.625" to 11.25"
Width: 6.05" to 6.80" 
Depth: 0.13" to 0.50"
Features:
1. Support cups contain open slots to accommodate for tablets of various sizes
2. Back plate can support various size support cups
3. Spring loaded tension provides secure support for your tablet 
4. Spring loaded cradle allows for quick release of your tablet
5. Full access to all ports 

Material:
High Strength Composite 

Please note: The device image shown above is for illustration purposes only.
---
£31.66 £37.99 inc. VAT (20%)*
---
Share this product:
---