Holder. Universal X-Grip® cradle for iPad Pro & 12 inch Tablets with or without a case or skin
Pooleys stock code: RAM-HOL-UN11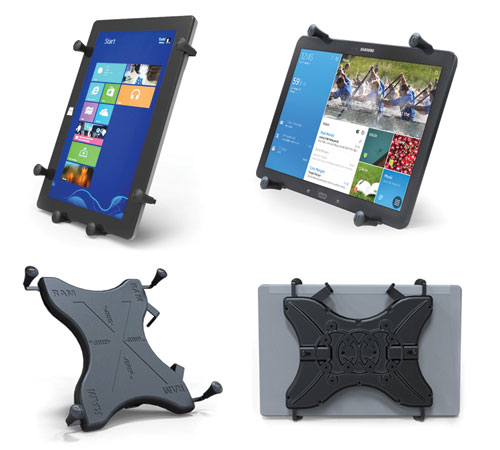 The new RAM X-Grip® line of products just got bigger and better. This new model is just what you've been looking for to hold your favourite tablet. Just like the devices it was made for, it is everything you need and nothing you don't. Simple to open and close, the spring loaded RAM X-Grip® leaves the outside edge of your tablet almost completely free of annoying obstructions. Soft rubber fingers apply just enough force to keep your tablet in safe and secure. Compatible with a wide range of mounting solutions, your tablet is sure to find a home no matter where your travels take you.
The RAM-HOL-UN11 holder expands and contracts for perfect fit of most 10 and 12 inch tablets with or without sleeves, as well as some smaller tablets. This holder by RAM® consists of a composite spring loaded holder, expandable grip arms and additional bottom support keeper.
Compatible Devices (WITH OR WITHOUT CASE):
Apple iPad Pro
Microsoft Surface Pro 3
Samsung Galaxy Note® Pro 12.2
Most 12" Screen Tablets
X-Grip® Holder Dimensions:
Minimum Width = 184mm
Maximum Width = 222mm
Maximum Length (WITHOUT additional supports) = Unlimited
Maximum Length (WITH additional supports) = 260mm
Depth = 22mm
X-Grip® Holder Features:
 Spring loaded holder expands and contracts for perfect fit of your tablet
Rubber coated tips will hold your tablet firm and stable
Versatility of holder allows for attachment to many 1" socket mounts
Socket technology allows for multiple adjustment angles and articulation of your tablet
Easy access grip knobs, located on the back of the holder for quick release of your tablet
Multiple mounting access points on the back
Additional support keeper at the bottom
Full access to all ports
Lifetime warranty
Made in the USA.
Material: Powder Coated Marine Grade Aluminium, Marine Grade Stainless Steel Components & High Strength Composite.
---
£80.83 £97.00 inc. VAT (20%)*
---
Share this product:
---