U-bolt Base + standard Arm + round plate Accessory (COMBO)
Pooleys stock code: RAM-B-149Z-202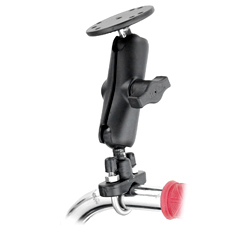 The U-bolt Base makes attaching to handlebars, tubing, or railing a breeze. Simple to install and easy to use, the possibilities become endless. Rubber ball and socket technology allows for almost infinite adjustment and perfect viewing angles. High quality materials insure your device is safe, secure, and within easy reach. RAM's patented design also dampens shock and vibration helping to extend the life of your mobile device. Included in this package is hardware that accommodates rails from 13mm to 32mm in diameter.
Material: Black powder coated marine grade aluminium
Components:
RAM-B-202
RAM-B-201
RAM-B-231Z
TIP: If your handlebars are 25mm, larger than 25mm, tapered, fatties, 28mm tapering down to 25mm, this is the mount to use. Use the u-bolt bracket on the bars, which is included in the mount kit on this page: The cast bracket accepts 1" and 1.25" u-bolts and both are supplied in the kit. Also included is a black plastic shim that sits inside the u-bolt for attaching to rail above 13mm diameter. If you wish to purchase the u-bolt base mount separately the part number is RAM-B-231Z.
TIP: RAM U-bolt mounts are suitable for mounting to all types of items that have bars and rails such as bicycles, motorcycles, farm machinery, tractors, wheelchairs. You name it RAM can fit to it.
---
£34.99 £41.99 inc. VAT (20%)*
---
Share this product:
---