Wet and Dry Wipes - Aerosense
Pooleys stock code: SGE210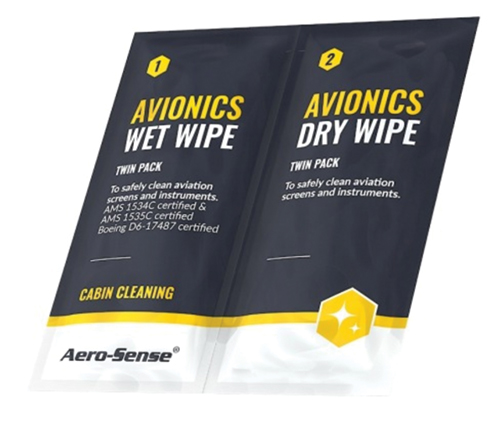 Avionics Wipes are a convenient product for cleaning aviation screens and instruments, in-flight entertainment systems, in-seat and overhead (touch)screens, etc. The twin sachet contains one large wet wipe and one large dry, lint-free wipe. The wet wipe's special formula will not damage the anti-glare coating of displays and screens and is safe for other surfaces in the aircraft such as metals, plastics and (un)painted surfaces. The lint-free dry wipe has an anti-static effect and guarantees a streak-free result.
Made in the EU
Non-flammable
Alcohol and ammonia-free
Safe on anti-glare coatings
Streak-free result
Anti-static
Lint-free
PRODUCT INFO
Cartons of 400 twin-sachets
CERTIFICATION
AMS 1534 & AMS 1535
Boeing D6-17487
APPLICATION
1. Take off jewellery to prevent scratching.
2. Check if the display is powered off.
3. Use a wet wipe to clean the screen.
4. Dry the screen using the dry wipe.
---
£2.50 £3.00 inc. VAT (20%)*
---
Share this product:
---
Related products

Interior Cleaner 500ml - Carpet, Seats, Leather Cleaner- Aero Cosmetics
£14.96
£17.95 inc. VAT (20%)
View Product

Cabin Cleaner - Aerosense
£16.63
£19.96 inc. VAT (20%)
View Product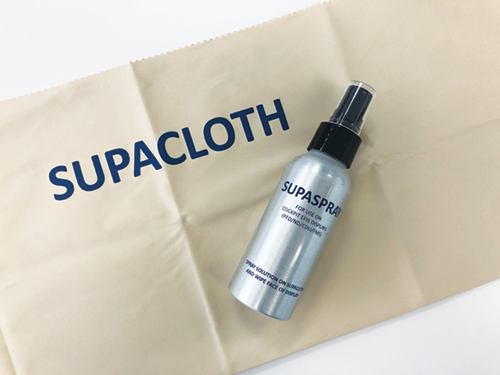 SupaSpray Lens Cockpit Cleaner and SupaCloth Microfibre Cloth
£18.90
£22.68 inc. VAT (20%)
View Product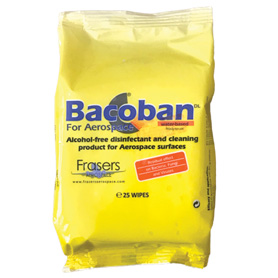 Bacoban for Aerospace Pack of 50 Wipes
£6.25
£7.50 inc. VAT (20%)
View Product