Air Pilot's Manual Volume 4H The Helicopter Technical Book
Pooleys stock code: BTT040H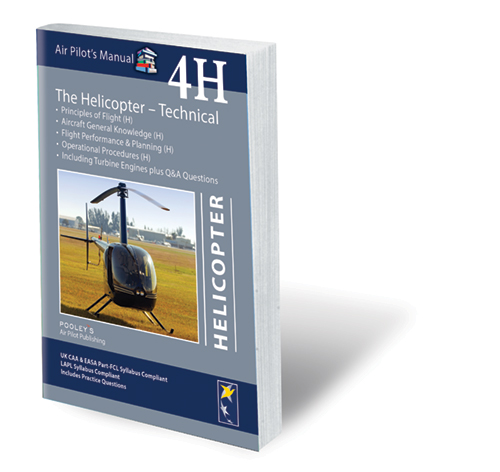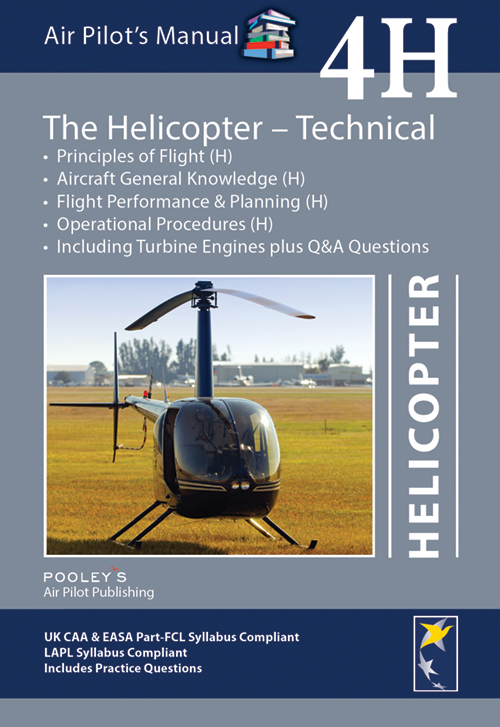 AIR PILOT'S MANUAL 4 (H) The Helicopter – Technical
CURRENT EDITION: FIRST EDITION JUNE 2022
SECTION 1 – Principles of Flight (H)
SECTION 2 – Aircraft General Knowledge (H)
SECTION 3 – Operational Procedures (H)
SECTION 4 – Flight Performance and Planning (H)
This manual is intended to provide PPL students with comprehensive study material to cover the EASA Part-FCL & UK CAA Part-FCL syllabus for the four helicopter-specific examinations at PPL level: 'Aircraft General Knowledge', 'Principles of Flight', 'Operational Procedures', 'Flight Performance & Planning', and the alternative engines paper in 'Aircraft General Knowledge' covering Turbine Engines.
The manual covers all subjects as required by the EASA Acceptable Means of Compliance (AMC), in accordance with the Annex to ED Decision 2011/016/R, which has now been imported into UK law by the EU Withdrawal Act 2018 and knowledge of all subjects herein can be tested either as part of the written examination process, or orally during a PPL Skill Test.
Flying as a Private Pilot is a challenging, but extremely, rewarding hobby. There is a large volume of extremely important material to learn. For the sake of safety of the pilot and their passengers, this learning task must not be underestimated or skimped. Accordingly, we highly recommend that student pilots read each manual in full before attempting each PPL examination to ensure understanding and depth of knowledge. Alternatively, we recommend they seek a dedicated PPL Groundschool service which offers either one-on-one tuition or group study/refresher sessions on the entire syllabus in each subject prior to sitting each examination.
Practice sample questions and answers are included at the end of each section to help students to complete their studies.
Download your FREE PPL e-Exam Learning Objectives Guide which cross-references the Learning Objectives from the exam feedback to the relevant chapters in the Air Pilot's Manuals.
---
£28.00 £28.00 inc. VAT (Exempt)*
---
Share this product:
---