Pooleys supports Aerobility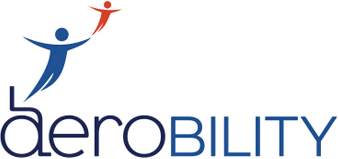 "If I can fly an aeroplane, what else can I do?"
Aerobility, formerly the British Disabled Flying Association (1081804), is a registered charity (1149629) that believes everyone should have the right and opportunity to actively participate in aviation.
We strive to remove the barriers that prevent individuals with disabilities from flying so that everyone is able to benefit from the life-changing experience.
The name, Aerobility, encompasses who we are as a charity by combining our core-attributes: Aerospace and Ability. We focus on removing the barriers that our beneficiaries face on a daily basis to instil a sense of accomplishment and pride.
Aerobility:
Ensures than any disabled individual is given the opportunity to participate in aviation by removing physical and financial barriers;
Provides leisure and educational activities which enhance conditions of life; and
Provides opportunities for friends, family and carers to share a positive experience together focusing on ability not disability.
Mission
Aerobility delivers a range of activities and services based around aviation. For many people living with a disability, the chances to exercise choice, break routine, and 'test the limits' are few and far between. Aerobility provides that chance by offering a unique combination of recreational and educational activities. Each and every disability comes with its own challenges and stigmas, whether an individual has been disabled from birth or from any age, through accident or illness. A person with a disability has to deal with the daily frustrations of the limitations of their body, cope with the financial hardship that often comes hand in hand with a disability as well as managing the assumptions and prejudices of those around them. The debilitating combination of disadvantage and disability can feel almost impossible to overcome.
Our funding and ambitions
As an expanding charity experiencing a high level of public demand for our services, we have identified a number of key growth areas for the future.  We want to confirm and consolidate our position as the most respected and influential disabled flying charity in the country, delivering the best possible services for disabled people.
To continue providing opportunities in aviation we rely on donations, in cash and kind. These come from a small number of commercial organisations and charitable trusts, together with one-off and regular donations from supporters, and the annual Aviators Ball fundraiser.
We do so much more, with so much less - literally stretching every penny into the sky for our charity - but find that demand always outstrips what we can supply.
Constantly looking to further improve what we offer, it is our ambition to grow into a better, as well as bigger organisation - and we need the funds to make it possible.
Our Operations
Aerobility has operating bases at our headquarters at Blackbushe and Tatenhill in the Midlands. We also fly from many other airfields on temporary detachment.
Aerobility operates a mixed fleet of light aircraft, balanced for capability, most being owned outright with others leased to suit demand. We are the only flying charity to have its own fleet of aircraft.
Our main training aircraft is the Piper PA28 Warrior, adapted so that it can be flown by people with disabilities. Even severely disabled people can be hoisted into the cockpit of our aircraft, using our specially developed hoisting techniques, and electric robotic or manual hoists. We also have a PA32 Cherokee 6, a larger aircraft with more loading capacity which allows us to take larger wheelchairs, power-chairs and a hoist with us on our flights, so that we can operate away from our usual bases without having to bring equipment by road. Thanks to the fundraising efforts of NATS and Prospect Union (ATCOs Branch) we have a brand new fuel-efficient Tecnam two seater, modified by the manufacturer to meet our requirements
Following a major fundraising effort in 2012, we also now own a fixed-base Piper PA-28 flight simulator which is located at our main office at Blackbushe Airport. In addition to our fixed-base simulator, and thanks to funding from Sport England, we also have a mobile simulator which we can transport to exhibitions, shows and events.
In addition to making activities more financially realistic by subsidising the cost, Aerobility also provide a diverse range of activities to ensure that there is an option for everyone. By developing ground-based education services and investing in a highly realistic flight simulator, in the rare instances where it is not possible to actually go flying, there is still a real opportunity to experience the magic and skill of aviation. The ground-based services also provide a range of opportunities for individuals with learning disabilities, and offer a regularity of contact that is beneficial for many who may find the complexity of aviation difficult to understand.
For more information on Aerobility or to see how you could help the charity, please visit www.aerobility.co.uk
You can support Aerobility with every purchase you make through the Pooleys website. You'll get a 5% discount off your order and Aerobility will get up to 30% of the value of your order paid to them.
Use the promotional code 'Aerobility' during the checkout stages.
"Something worth flying for!"