Pooleys sponsors The Tiger 9 Display Team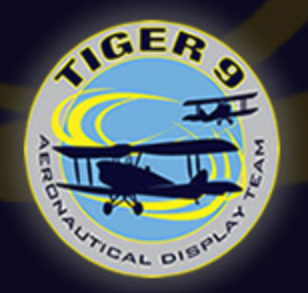 The Tiger Nine formation team was formed in the summer of 2005 in response to the request for a flypast of nine Tiger Moths at the 25th de Havilland Moth Club rally at Woburn Abbey. Based on a core of former Diamond Nine members, a new team, led by Jeff Milsom, engaged in a series of practice sessions, necessary to achieve the objective of flying the large close formation flypast at Woburn. This was achieved successfully, and was enthusiastically received by the Club, Having risen to the challenge; the newly formed team went on to develop their full display routine for the next season. 
Since 2016, Pooleys has proudly sponsored the Tiger 9 Team. We used to sponsor the original Diamond Nine team back in the 1980s when it was the Airtour Diamond Nine. Airtour International was the former name for Pooleys Flight Equipment.
We wish the team a successful display year.
You can find out more about the Tiger 9 team on their website by clicking here.